LONG-SERVING and much-loved former property steward Ken Kleiman, a Life Member of both the Carlton Football Club and Spirit of Carlton, has died after a short illness at the age of 93.
Born on Christmas Day 1925, Kleiman often quipped that "there were only ever two half decent blokes born on that day and I was one of them".
A lifelong supporter, he joined the club in 1965 at the time George Harris's Progress Party was swept into power and Ron Barassi signed on as Captain-Coach. A famous photograph of a euphoric Barassi at siren time of the 1970 Grand Final features an equally jubilant Kleiman in the frame.
In terms of his allegiance to the old dark Navy Blues, few were as passionate or as endearing as Kleiman, as his friend and former club runner Bob Lowrie attested.
To quote Lowrie: "He loved Carlton and Carlton loved him".
"Kenny's life was just full of fun, and you never had a conversation with him without the Carlton footy club coming up. The people he really respected at Carlton were Jack Carney and Jack Wrout – they were his two favourites," Lowrie said.
"I remember at one point that Kenny was battling with a badly bruised arm that he copped after a knock in the course of his work. His arm was quite blue, but when I questioned him about it his response was: 'I'm a Carlton supporter – blue blood in the veins'."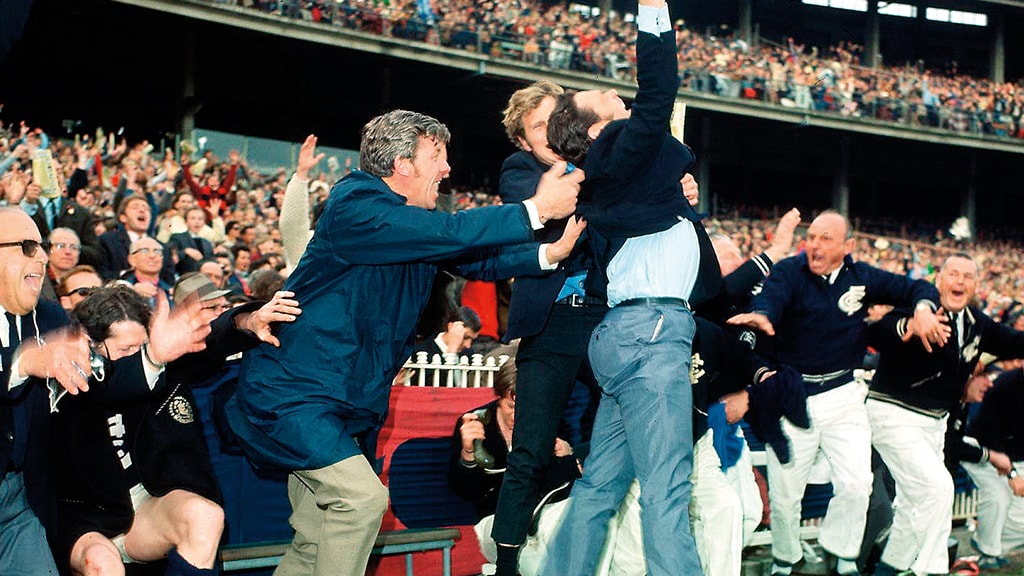 Siren time, 1970 Grand Final – Ken Kleiman can be seen to the immediate right of Ron Barassi as you look at the photograph.
For years, Kleiman supported the late Carlton property steward Ken Monk. Awarded Life Membership in 1985, he was recognised in the club's Annual Report of that year as one of "Carlton's most faithful workers" and the 1995 Premiership saw him out in terms of his official commitments.
But this lovable identity with a twinkle in his eye never strayed too far from Princes Park, where he invariably found himself on the receiving end of good-natured gags from players and officials alike.
For years, the following poem, devised by Blue Diamonds Coterie President Dick Merton, was cheekily adopted by those who knew Kleiman whenever they crossed paths with the follicly-challenged old-timer.
Kenny Kleiman met a pieman
Going to the fair,
Said the pieman to Kenny Kleiman
'Where's you're f… hair?'.
Four-time Carlton Premiership player David McKay, now recovering from recent triple bypass surgery, fondly talked of his relationship with the two Kennys this week.
"Kenny Monk and Kenny Kleiman were very good mates of mine. They used to let me hide in the property room so I wouldn't have to partake in the psych stuff which I thought was all a bit silly," McKay said.
"I'll never forget the Snappy Panties Bedford van Kenny used to ferry our gear to our away games. Kenny was a real Carlton person who will be sadly missed."
Kleiman, who was recently acknowledged at the Carlton Life Members Luncheon as the oldest member within club ranks, was admitted to Heidelberg's Austin Hospital on  Friday and died the following Monday (August 5).
He is survived by his beloved wife Pam, son Mark, daughter-in-law Carolyn and grandchildren Samantha and Joel.
As a mark of respect to Kleiman, the Carlton players will wear black armbands into Sunday's match with Richmond at the MCG – and while funeral arrangements are yet to be finalised, he'll be laid to rest in an old woollen Carlton guernsey signed by Barassi and surviving members of the 1968 Premiership team.
Clearly, Kleiman was a revered figure at Princes Park. As Lowrie said: "He was a great Carlton man in every sense. He'd never say a bad word about the club".