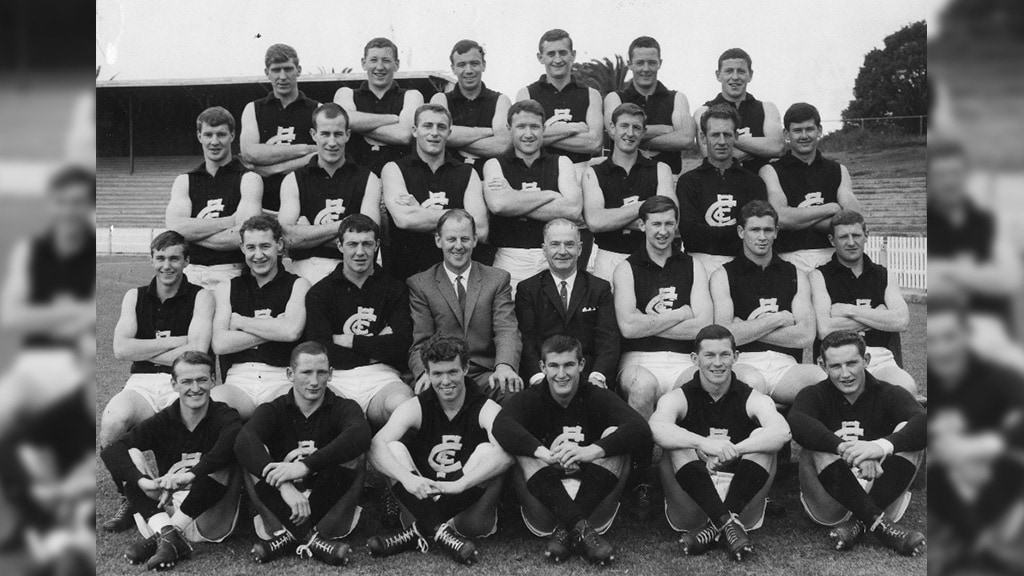 ROGER Hoggett, the 12-game former Carlton centreman through the Hands/Barassi transitional seasons of 1964/'65, has died peacefully in Wonthaggi at the age of 77.
Recruited to the club from Longford in the northern midlands of Tasmania, Hoggett was adjudged Blues best and fairest at reserve grade level in his maiden '64 season. That same year, having strung together half a dozen stand-out performances in the twos, Hoggett got his first senior call-up and was named 20th man in the 11th round match involving Geelong.
That winter Saturday, Hoggett took his place on the pine with John Comben, as fellow team members, including the then captain Sergio Silvagni, John Nicholls, the late Wes Lofts and the '64 Brownlow Medallist Gordon Collis, took their places on Princes Park.
Wearing the No.36 later worn by Mark Maclure and (now) Patrick Kerr, Hoggett was only called upon in the remaining few minutes of that contest and was omitted by Senior Coach Ken Hands for the following game.
However he soon won a senior recall and turned out in the 13th and 14throunds with Hawthorn and Melbourne respectively.
By season's end, and with Carlton having completed its worst ever finish (tenth) in its Centenary year, George Harris and his Progress Party completed an audacious boardroom coup and sensationally landed Ron Barassi as Captain-Coach.
In the ensuing summer months under Barassi's watch, Hoggett and fellow members of the playing list were subjected to a searching pre-season regimen. Unfortunately, Hoggett's papers were stamped after the 11th round of 1965, when Carlton met St Kilda for the first time at Moorabbin. In a tight, even contest involving the two top four teams, former Carlton player Bruce McMaster-Smith broke the deadlock with a crafty match-winning snap – precipitating five Carlton omissions, Hoggett included – and he never again turned out in Dark Navy.
Collis remembered Hoggett as a solidly-built midfielder, "but probably a casualty of the Barassi revival".
"'Barass' was always big on pace and height in players, and was always looking for that archetypal type. Roger was a solid player, but wasn't real quick, which probably didn't help, and he was a bit stiff in not being able to land that regular spot in the team."
Garry Crane, the three-time Carlton Premiership player, Best and Fairest, and Team of the Century player, completed his senior debut in the same season as Hoggett. He remembered the Tasmanian recruit as "very powerfully built, strong and hard at the ball".
"Roger wasn't real quick, but he made himself known. Anyone who was hard at the footy earnt respect at Carlton and that's the way that he was," Crane said.
"I didn't really get to know him well, because in those days there weren't as many functions where you got to collaborate with the players, and me being in hotels at the time meant that I'd train then dash back to the pub. But I do remember him making an impression, more than anything else because he was a good bloke."
Three years after parting company with Carlton, Hoggett was appointed captain-coach of New South Wales powerhouse Western Suburbs and duly led the Magpies to a Premiership in his first season.
Hoggett, whose wife Lyn predeceased him, is survived by his children Dyson, Mycalie and Shahn, son-in-law Boo, and four grandchildren.
His funeral is to be held at the Anglican Church of Ascension in Inverloch next Tuesday (August 6).