The true identity of a member of Carlton's inaugural VFL team to take to the field has been revealed, more than 120 years after he first ran out.
The player is the 30-game backman Charles Herbert Sweatman, wrongly identified as Tom Sweetman, who was part of the club's senior 18 which met Fitzroy at Brunswick Street Oval in the opening round of the League's inception season of 1897.
The mystery was recently solved by Jamie Sanderson of The Blueseum historical website, with the support of researchers Rob Harris and the AFL's Stephen Rogers.
According to Sanderson, the enduring flaw can be sourced to the newspapers of the day in 1897, which incorrectly listed the player as 'Sweetman' with two 'e's.
"It seems that the incorrect spelling was accepted as gospel by everyone including the player himself," Sanderson said.
"He even went by the name Sweetman in his later playing career with Boulder City in the Goldfields League."
When The Blueseum issued a public plea for assistance in sourcing information on its little-known players, Harris pursued information relating to Sweetman, only to find references to Sweatman.
Sanderson's subsequent search through ancestry.com unearthed a Tom Sweatman, born in Ascot Vale in 1873, whose age tallied with the Carlton player.
"The thing that really made me twig was the image I located of the 1907 Boulder City Premiership team, in which Tom Sweatman is pictured standing next to Jim Pender – both men having played in Carlton's backline through 1898," Sanderson said.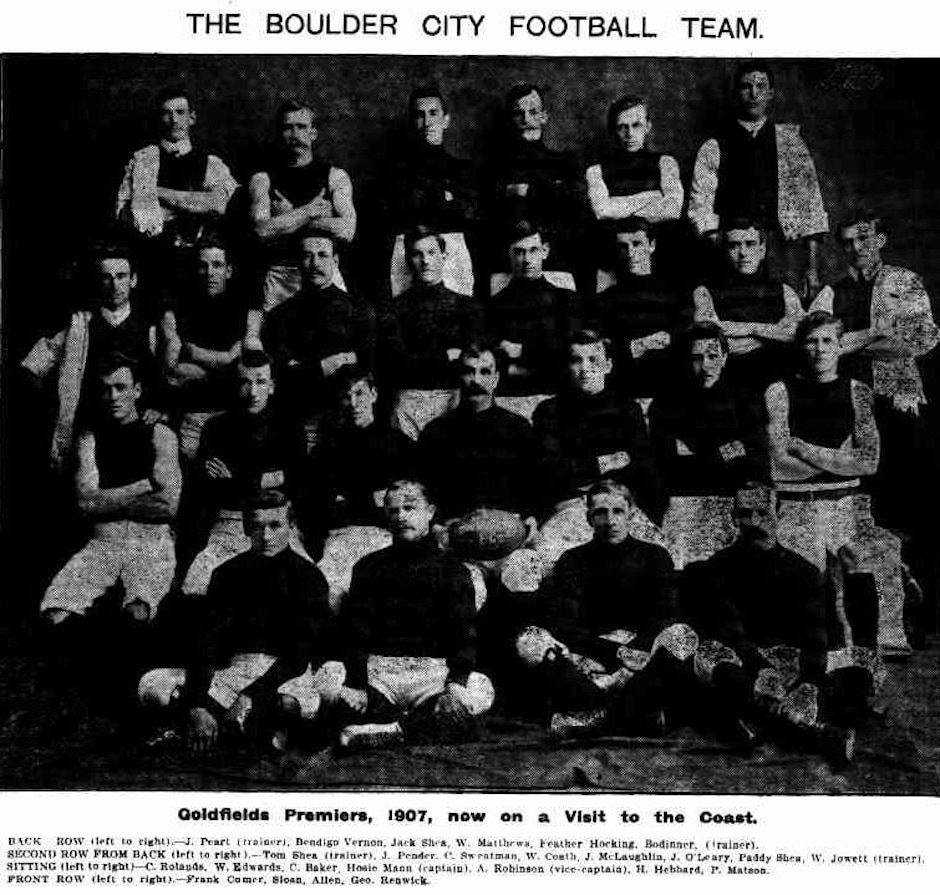 Charles Sweatman in the 1907 Boulder City team photo.
"On being notified, the AFL conducted further investigation and confirmed that Sweatman was the man – and there were a few fist pumps when that came through. The League's official records have now been changed, with historic publications like the Encyclopedia of League Footballers to follow suit."
Sanderson added that although Sweatman died of a heart attack in Echuca in 1915 at the tender age of 41, he was married with a son "so there is the possibility of descendants".
Accordingly, descendants are urged to contact Tony De Bolfo on 9389 6241.