BARRY Bryant well remembers the day the offer first came through.
It happened more than 60 years ago, when the then 17 year-old was a junior teller in the counting house at Walwa – the tiny northern Victorian town less than a mile from the Murray River between Wodonga and Corryong.
"It was about 1957. I was working in the bank there and the manager said 'Oh there's a couple of fellows from Carlton here to see you," said Bryant, who paid his old club a welcome visit recently.
"I said to the manager 'You must be kidding' because ever since I was a kid I always followed Carlton.
Resplendent in their dark navy blue blazers, the two men from the big smoke were the Carlton Secretary Allen Cowie and the 1947 Brownlow Medallist Bert Deacon.
"They said to me 'We'd like you to come down to Melbourne to play. We'll get you to play on permits' – and I didn't need to be asked twice," he recalled.
"I came down and played about four or five games on permits with the seconds under Jack Howell as coach, whilst attending bank school."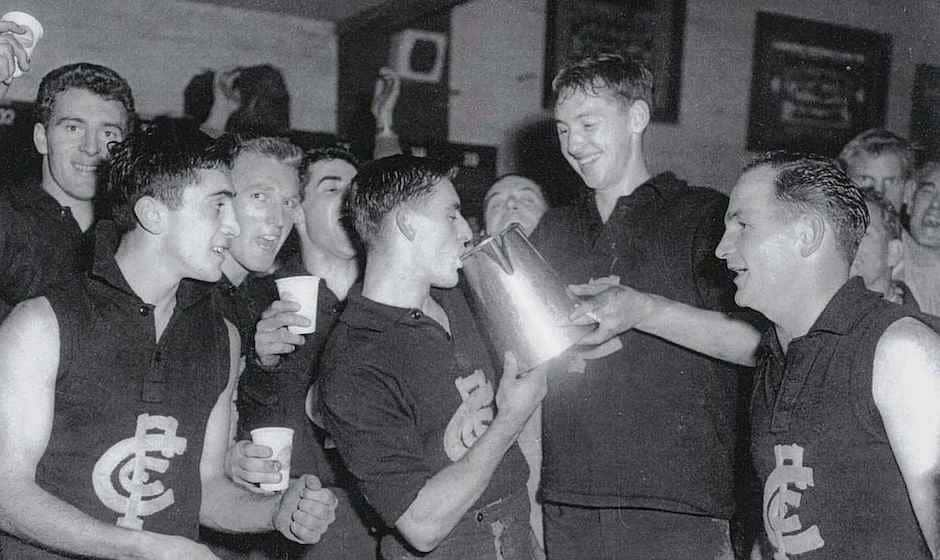 Barry Bryant among his Carlton teammates. (Photo: Supplied)
After a brief first stint at Princes Park, Bryant opted to head back to the bush – his reasoning fairly simple.
"I realised I probably wasn't totally ready to leave home at that age, so I went back to play a few local games. When Carlton asked me again if I'd like to come down I said 'Just leave it'," he said.
"I thought I'd get a transfer with work to Melbourne anyway and I got a transfer all right – to Kyabram. I had a good year with Kyabram, won the best and fairest there in '59 and Carlton followed up. That's when I came down in 1960 – and I wasn't going to go anywhere else."
The Walwa Bryant left behind was "pretty much a one-horse town". But it had a fair footy team, amongst them Barry, his younger brother Gordon and their father Milne (aka 'Spud') Bryant. Together they played their part in Walwa's four flags on the trot – 1954, '55, '56 and '57.
"That was open age of course and I reckon I played my first game at about 13," he said.
"I was a little goalsneak so they put me in the pocket, and then from 16 I played centre – and Dad, who was 20 years older than me, was full-back."
Boarding in eastern suburban Hawksburn under the watch of an old lady named Miss Decker, Bryant used to catch the tram to training.
Told that he would make the cut for the opening round of the 1960 season against Richmond at Princes Park, Bryant cruelly suffered a cork thigh in the practice match the week before, and was instead replaced by Dave McCulloch.
Wearing the number 11 later made famous by Bruce Doull, Bryant overcame that physical setback to complete his senior debut nine days short of his 20th birthday, against Fitzroy in the second round match at Princes Park – an historic round given that matches were played on Anzac Day for the first time.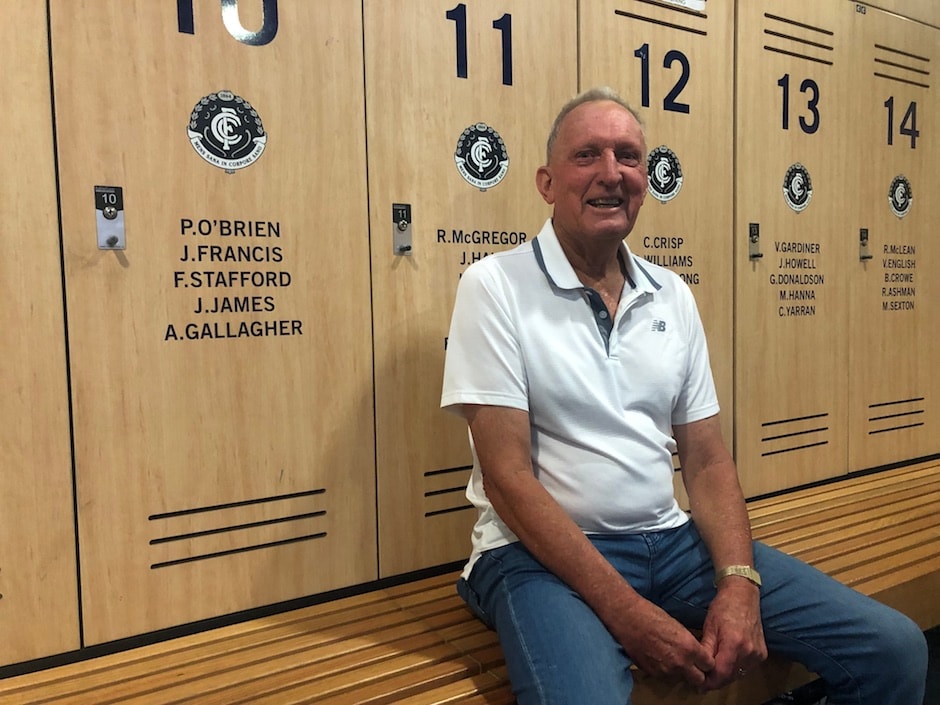 Barry Bryant returns to Ikon Park in front of his former No.11 locker. (Photo: Supplied)
But it's the Round 10 contest with Footscray that Bryant savours most.
"I can remember before that match that Ted Whitten came over to shake hands," Bryant said.
"He said to me 'this is one of your first games – all the very best' – and I have always remembered that. TED WHITTEN!
Plying his craft as a canny forward pocket with a beautiful left boot, Bryant made steady progress and was not surprisingly adjudged Best First Year player in Carlton's Hands-coached senior teams of the 1960 season.
But in the 10th round match of 1961 against Hawthorn at Glenferrie Oval, he copped an injury that effectively ended his on-field career.
"In the third quarter at Hawthorn I went up for a mark which I took on my chest, but I came down awkwardly and I felt something," Bryant said.
"I thought 'Geez, what's happened here?', and as I looked down my left kneecap was sticking out. That was pretty much it, although I look back now and wonder what might have been. All I was told by the medical people back then was to strap a brick to my left foot and lift the foot up and down."
Bryant's Carlton career ended after just 14 senior appearances – but not before he'd forged lasting friendships with the likes of Gordon Collis, Bruce Williams (now living on the Gold Coast), Barry Smith, who played a few games, and John O'Keefe whose whereabouts at the time of publication are unknown.
Beyond Bluesville, Bryant managed a couple of seasons with VFA outfit Brunswick before heading back to the sticks. He fronted up for a game with Rushworth, but when a poke in the eye almost cost him his sight he opted to give the caper away at the tender age of 25.
Turning his attention to tennis, he rose through the ranks as a competent state player and he still plays. A regular partner on-court is the former Collingwood Premiership footballer Brian Beers.
To this day, Bryant's love for Carlton remains.
As he said: "I just love them . . . and now I see daylight."