It's thought that the late Carlton Football Club Chaplain Father Gerry Briglia first graced Princes Park with his considerable presence in the Premiership year of 1968, when an uncle, Dr. Emil ("Billy") Briglia, assumed duties as club doctor.
Of no doubt is that for more than a decade through that glorious epoch that began with Barassi, Carlton's man of the cloth made a truly indelible impression.
The 220-game Carlton premiership player Rod Austin remembered Father Gerry as "a real character and a mad Carlton supporter", whose resounding authoritative voice and manic laugh made an immediate impression in conversation.
"He was a good bloke, he was funny, and he had a lot of personality," Austin said. "He was around a fair bit and he was good value."
The two-time Carlton Premiership player Barry Gill was even more glowing. Said Gill: "I consider Father Gerry one of the few people who have left an impression on me".
The pipe-smoking Father Gerry hailed from a family of accomplished musicians. His grandfather, the Neapolitan Giuseppe Brigila, was a fixture in the musical life of this city for some 60 years, and, in the heyday of silent film, conducted and controlled orchestras.
Not surprisingly, Giuseppe was widely considered Melbourne's "Mr. Music".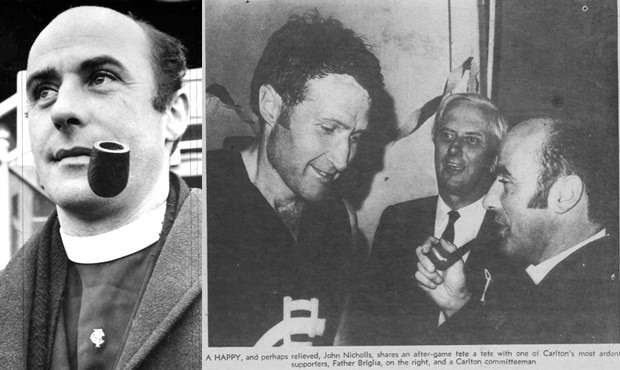 Father Gerry was a Blues man through and through and left a lasting impression on many at the Club. (Photos: Supplied)
Giuseppe was survived by his wife Rosina, four sons and four daughters at his death in 1960, with three of his boys having followed him into music – Carlo (Gerry's father) on violin, Frank on piano and Bert the bassoon. The fourth son, Tony, died in 1945, from an illness contracted while serving on H.M.A.S. Australia.
Though Father Gerry ultimately pursued a religious vocation (initially serving as Assistant Priest at St Patrick's Cathedral and Moreland Parish, that kindred love for composition saw him undertake studies at the University Conservatorium of Music in January 1958 and (later) Sacred Music at Corpus Christi College, Glen Waverley.
Through the 1960s, Father Gerry served as a staff member of the Catholic Education Office, and Lecturer and Tutor at Oakleigh's Chris College. He was later appointed inaugural parish priest of Aspendale's St Louis de Montfort's Church, a position he held between 1971 and the Carlton Premiership year of 1979.
By then, Father Gerry had truly forged his reputation amongst the Carlton Football Club's many and varied characters, most notably its pliable footballers.
"I wasn't a person of his faith, I didn't have a lot to do with him in terms of sourcing information, but he was a remarkable person socially and he was someone I had enormous respect for," Gill said recently.
"He was the sort of person anyone could talk to and gain great confidence and faith in, and his laugh – a cackle it was – really sticks in my mind. In fact, I just mentioned Father Briglia's name to my brother John and he immediately started cackling.
"Father Briglia was a character. He was a priest but he was one of the boys. He was able to mix in with the players and he was a great support. He was an Honorary Member of The Carltonians, which was a feather in his cap really, because The Carltonians, at that stage of their history were an exclusive coterie. I remember he used to wear the CFC monogram on the front of his vest."
David 'Swan' McKay remembered that when David Triaca oversaw the running of the Café Latin at 55 Lonsdale Street, Father Gerry took select Carlton recruits, himself included, to the famous Melbourne eatery.
"Not only was it a wonderful experience at one of the city's best if not the best restaurant at the time, but Father Gerry was a magnificent host who provided wonderful pastoral guidance to young, impressionable and very naïve players from the bush and interstate. He was a wonderful influence around the club," McKay said.
"He also officiated at many Carlton weddings and funerals over the years. I am pretty sure he married Geoff and Lorraine Southby and he also officiated at John O'Connell's funeral."
Father Gerry indeed acted as a celebrant at the marriage of the dual Carlton Premiership player Geoff Southby – who this week related what is perhaps the most famous tale involving the legendary Chaplain in his time at Princes Park.
"Father Briglia joined us on the All Stars world tour to Singapore, London, Paris and Greece after we won the Grand Final in '72," Southby recalled.
"I remember he organised through his contacts a ferry from London across to Paris and hotel accommodation for about 40 players, but the catch was that we had to check in as married couples, and I checked in with Bryan Quirk.
The three-time Carlton Premiership player Adrian Gallagher, who remembered Father Briglia as "always happy, always fun", takes up the story;
"We were in London between our match-day engagements when Father Briglia asked 'Who wants to go for a weekend in Paris?'. Everyone looked at eachother rather incredulously, but Father Briglia arranged for the transport and the accommodation.
"We got to the hotel and were waiting in a bus outside when we saw Father Briglia arguing with some French bloke. We later found out that as the hotel rooms were only fitted out with double beds, only married couples could sleep in them. It was 1972 after all.
"In the end we had to check in as husband and wife, and you weren't going to get an ugly one were you? – 'Adrian Gallagher, Alex Jesaulenko'. I remember Father Gerry checked in with the then secretary Bert Deacon, so you had a Catholic Chaplain sleeping with an Anglican Deacon, which was rather amusing."
From early 1982 until his untimely passing, Father Gerry officiated as Parish Priest at St Damian's Bundoora. As with Carlton in the early days, he quickly immersed himself in club life on Plenty Road, at the nearby Old Paradians' Amateur Football Club which has, over the years, opened its doors to many and varied ancillary types, this correspondent included.
It was there that I once got to ask Fr. Gerry when his time at Carlton actually ended. "1980," came the reply. "I went out with George" – a none-too-subtle throwback to the ousting of Harris and Alex Jesaulenko at the Extraordinary General Meeting of Members at Festival Hall.
The Reverend Father Daniel Gerard ("Gerry") Briglia P.E., died at St. Vincent's Private Hospital on April 18, 2000. His brothers Jim (also a Catholic priest) and Roland (a barrister) have since passed on also.
A first cousin, Paul Briglia, knew Father Gerry on a different level, but spoke in similar tones to Messrs Gallagher, Gill and co.
"Gerry was just a great guy an I was very sad when he left us," Paul said. "He used to make the family gatherings more exciting just by being there."
Father Gerry was only 68 at the time of his death, and to quote Southby: "He loved a red wine and he loved a smoke of the pipe, which is what got him in the end as he died of throat cancer".
"He was highly-respected as a man you could go to, particularly amongst we Catholics," Southby added. "But he was well-regarded right across the board, and the players saw him as one of the boys in many ways although he was able to keep his distance a bit in his professionalism as a man of the cloth."
"He was a great man for the club even if, in the finish, he backed the wrong horse and went out with Harris. But he was a loyal George man, very pro-George, and he loved 'Jezza' (Alex Jesaulenko) too."
Following his funeral service at St. Patrick's Cathedral, Father Gerry was buried in the Christian Brother's Cemetery to the rear of Parade College's Bundoora campus. As the plaque on his headstone attests, he died in the 44th year of his priesthood.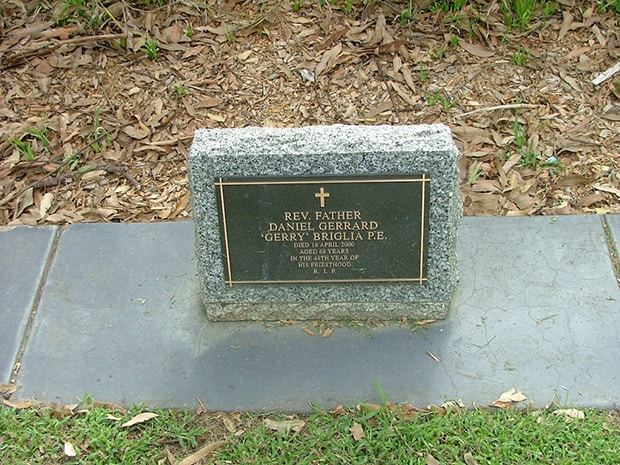 Father Gerry will always be remembered as a larakin with a generous heart. (Photo: Carlton Media) 
Today, more than 17 years after his passing, this truly unique individual's memory endures at the Old Paradians, by way of the Father Gerry Briglia Award for the club's most improved senior player.
And at Carlton, the Reverend Steve Webster capably serves on a part-time basis as honorary Chaplain to the players and staff, thereby upholding the tradition so colourfully set by Father Gerry.
For wise heads of Southby's ilk, the club Chaplain's presence is truly vital – even moreso in today's cut and thrust. As he said: "Mentor figures like Father Gerry have a genuinely neutral and independent view on life generally, and are vitally important to players who see them as go-to figures for guidance outside the real nitty gritty".