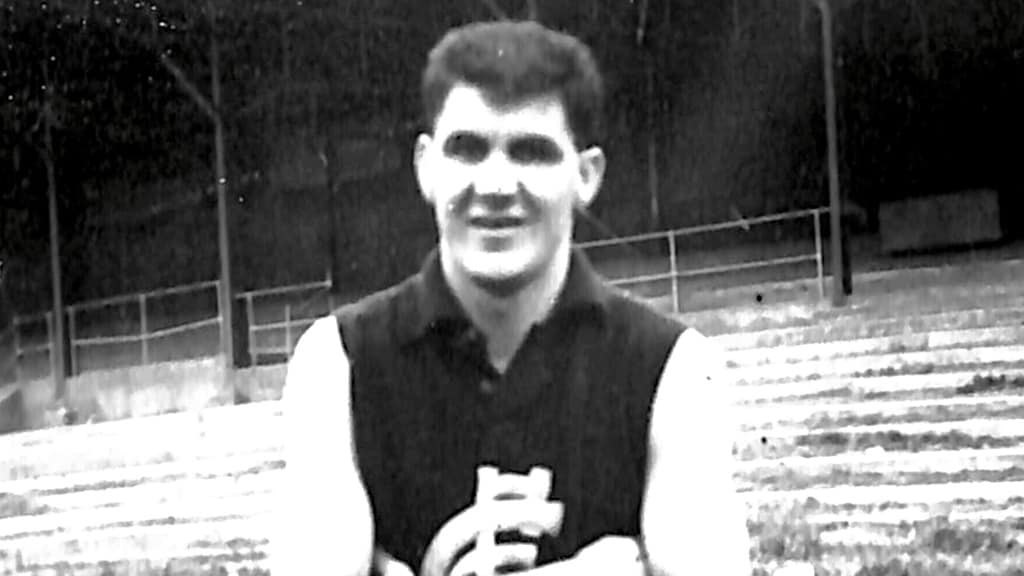 Recruited to the club from neighbouring Princes Hill having earlier chased the leather for Brunswick YCW, Williams furthered his football through Carlton's Under 19s and reserves, and turned out at senior level for the first of 25 matches in total wearing the No.31 later made famous by Ron Barassi.
That happened in the opening round of the 1959 season – Saturday, April 18 versus Essendon at Princes Park – just four days after Williams turned 19. Named at centre half-forward, he contributed a goal to Carlton's 13.20 scoreline, with Sergio Silvagni booting four of his five goals up front in a match-winning opening quarter.
As fate would have it, the Essendon match would double as Williams' only senior appearance for the '59 season. But season 1960 would offer a 12-game return, during which time he was a more than handy contributor whether as ruck-rover or forward pocket (booting a personal best three goals in the 11th round match with Melbourne).
In 1961, Hands in his wisdom resolved to switch Williams to defence, and there he represented the club in ten more contests. But as the season progressed, he was more often than not consigned to the bench, and after managing just two senior appearances in the Grand Final year of 1962 – the legacy of a serious injury to his kicking foot (the right) – he parted company with the club.
Almost 30 years later, Williams saw his boy Mark take to the field for the first of 19 senior appearances for the old club to which they were both zoned. As with the old man, Mark was 19 when he completed his Carlton debut, against Footscray in the 13th round of the 1983 season at VFL Park.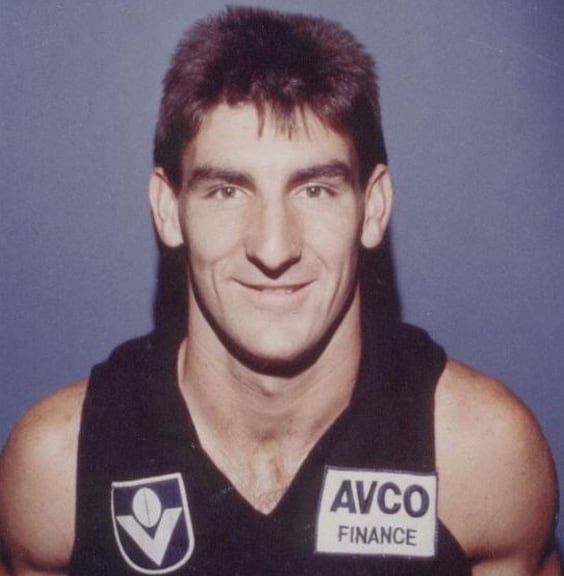 Mark Williams during his time with the Blues. 
Mark was adjudged the club's best first year player in '83, but the ensuing five seasons would provide a return of just 14 senior games – during which time he represented the Blues in their reserve grade back-to-back Premiership teams of 1986 and '87 – before rounding out his League career with 13 senior appearances for Footscray.
In 1998, Mark was appointed senior coach at VFL club Preston for what would be the first of six seasons at the helm, during which time the club amalgamated with Carlton and transitioned to the Northern Bullants.
In 2004 he was appointed senior coach at Sandringham with immediate success, taking the Zebras to three successive Premierships in 2004-05-06. Whilst at Sandringham, he combined his duties with the role of development coach at Melbourne, and after eight seasons with the Demons, joined Richmond as a senior assistant to Damien Hardwick.
Earlier this week, Mark took the opportunity to reflect on his father's life, his seismic influence as a family man, and his precious father/son relationship at Carlton.
This is Mark's story: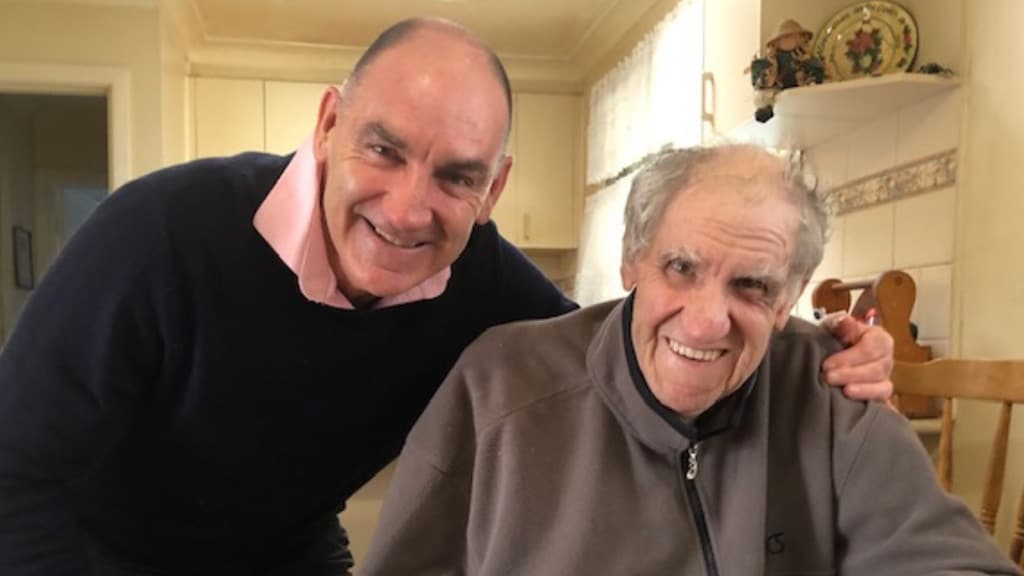 Mark and John Williams. 
Dad was a fantastic leader, teacher, great confidante and counsellor. He was one of a kind. He was a hero to our family and we loved him deeply.
We were all really close to him, but I had a great connection because of the footy. He was mates with 'Collo' (Ian Collins) and Vasil Varlamos and there's not many others of that era left.
Dad originally lived at 319 Lygon Street. It's a pizza shop now, but back then it was a barber shop as Dad's Dad was a barber and they lived above the shop upstairs.
Though he lived in the Carlton area, Dad had some early allegiance to Collingwood because his maternal uncle Harry 'Bottles' Chesswas played for the Magpies in he 1920s and '30s. But from the age of eight or nine, when he started going to Princes Park, Dad supported the Blues . . . and supported them ever since.
At Carlton, Ken Hands gave Dad the nickname 'Effie' because he always used to swear. He came through the thirds, seconds and firsts and he always had to play above his age group, so it was never easy for him. He got beaten up a bit early, but he often said that he got his own back when he got bigger. He was a utility as they called it back in those days – he stood 6'1" in the old measurement and weighed about 85kg. He had massive hands and massive feet, and from all accounts he was a tough nut.
Dad related a really funny story to me about his time at Carlton. He recalled that a lot of the players used to play table tennis in their down time at the club, and on one particular occasion the ball got crushed. He told me that Brucey Comben the then captain got hold of the key to the property room and the players helped themselves to the footy jumpers and socks while they were in there. It was like Christmas for the players because the then property steward was a miserable character who hung onto everything – and the players knew that they could only ever wear the stuff at home as the property steward would twig otherwise.
Dad started going alright with his football, but early in the '62 season at his workplace a massive iron bar rolled off the bench and landed on his foot, crushing his big toe into about 20 pieces. The doctors told him they were going to cut his toe off but he talked them out of it. He couldn't walk for a while, and when he told Carlton that he couldn't train the club delisted him and he never went back. Mind you it was no big deal then.    
After Dad recovered he went to Coburg YCW where he played and coached them to a flag. He then had a year at Black Rock and a year at Tongala, which he really loved – until a car accident left him with a broken jaw and forced him to step down.
Dad later captained and coached Merlynston to a flag – and then he gave the game away.
On the eve of my first senior game in '83 I knew I was in the squad, but I went to bed on the Thursday night before. Back in the early 1980s, League Teams would be broadcast at around 11pm on a Thursday and I can remember Dad running in to the bedroom saying "You've got a game. Congratulations". Dad was super proud. He was really rapt.
When I played for Carlton I got to meet Dad's old teammates, so they looked out for me. I reckon Dad came to most games that I played, whether seniors or reserves. He used to work overtime, knock off at 11 o'clock on a Saturday morning then front up to wherever I was playing. When I played for Footscray later on, I remember he mistakenly went to the Carlton ground, because old habits die hard I suppose . . .
I was very lucky that I remained in footy for a long time, because while he always let me find my own way he was also happy to pass on advice. I remember as far back as Under 11s him telling me: "You need to be on the move whenever there are ball-ups or throw-ins – you can't stand still". After all these years that still sticks in my mind.
When I coached at St Paul's East Bentleigh, I used to pick him up in the car on the way down and we discussed the game together. On the way home we'd dissect the game too and he pretty much consolidated my thoughts on coaching.
A little while ago, Dad developed lung cancer and I used to drive him into 'Peter Mac' (Peter MacCallum Cancer Centre) for treatment. One day we had a couple of hours between sessions, so I said to him – "Come on Dad, let's go for a drive to some of your old haunts". 
I took him on a tour of places like the Lygon Street barber shop where he lived, the place at Moreland near Northcote Golf Course (Glenross Stainless Steel) where he worked and the old East Brunswick Footy Ground where he used to play. I also took him to the new development at the old Carlton ground.
Dad was too crook to get out of the car, but he really enjoyed returning to those places that were so important in his life. He pointed out a few things on that drive and I recorded some of them on audio and later video . . .
As I said earlier, my whole family was extremely close to Dad. I'm very emotional at the moment just thinking of him. The thing I'll miss most is just being able to talk to him, particularly about footy. He was a great fellow.
John Leonard Williams was the 724th man to represent the Carlton Football Club at senior level since the foundation season of the VFL in 1897.
He died on October 9 after a short illness. He is survived by his wife Lynette, son Mark, daughters Megan and Linda, daughter-in-law Michelle, son-in-law Stephen Gumley (a former Carlton reserve grade player) and six grandchildren.
John's funeral is to take place at the Cordell Chapel, Fawkner Memorial Park, commencing 12 noon this Thursday (October 17).