Past players & officials reunion Carlton, in conjunction with the Spirit of Carlton, invited past players and officials for a barbecue during the boys training session today.
The past eight decades of Carlton Football Club life were recently represented at the old spiritual home, when former players and officials reunited for a barbecue convened by the Spirit of Carlton.
Ken Hands, the last surviving member of the infamous "Bloodbath" Grand Final of 1945, was there with members of his family. Hands' old teammates Ken Hopper and Bill Redmond – the latter the club's first Under 19 Best and Fairest in 1946 – were also in tow.

Three generations of the late Fred Stafford, who kicked the winning goal in the Blues' 1947 Grand Final triumph. (Photo: Supplied)
From the 1950s, former David Browning, Graham McColl, Ron O'Dwyer, Ron Robertson, Sergio Silvagni and Peter Webster made the pilgrimage back to the ground they remembered as Princes Park, as did Ian Collins, Garry Crane, David McKay, Dennis Munari, Maurie Fowler from the 60s.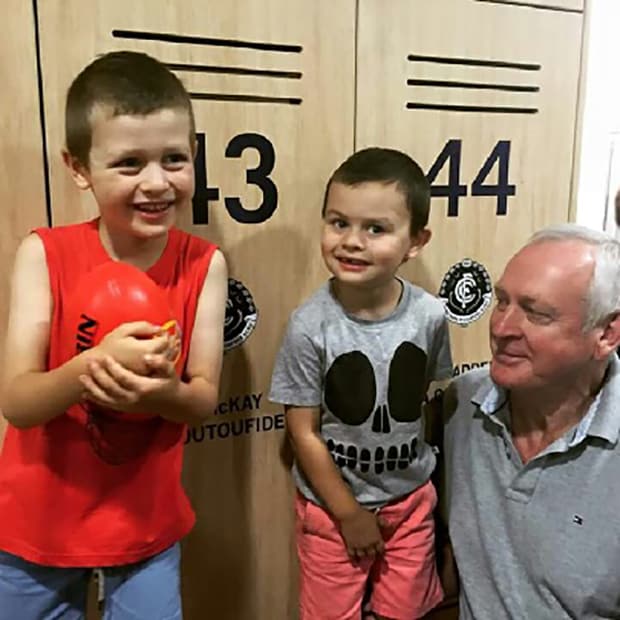 David 'Swan' McKay with grandchildren Jack, 6, and Ben, 4. (Photo: Supplied)
Jim Buckley, Vin Catoggio, Peter Fyffe, Garry Higgins and Ken Sheldon flew the dark Navy Blue banner for the 70s, while the 80s was represented by David Glascott, Adrian Gleeson, Mark Naley (who jetted in from Adelaide), David Rhys-Jones and Stephen Silvagni.
Andrew Cavedon turned out for the '90s, as did Simon Wiggins for the 21st century.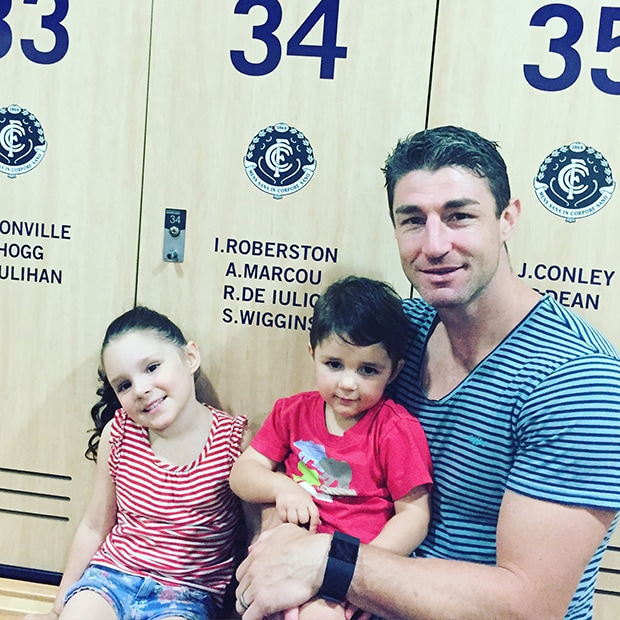 Simon Wiggins with his children. (Photo: Supplied)
Representing former officials of the club was Foster Heatley (grandson of the legendary Robert Heatley) and di Pekins, whose grandfather Tom Warne and uncle Bert Warne served as groundsmen for the first 67 years of Princes Park's life.
Carlton President Mark LoGiudice also attended, together with fellow director Kate Jenkins and CEO Steven Trigg.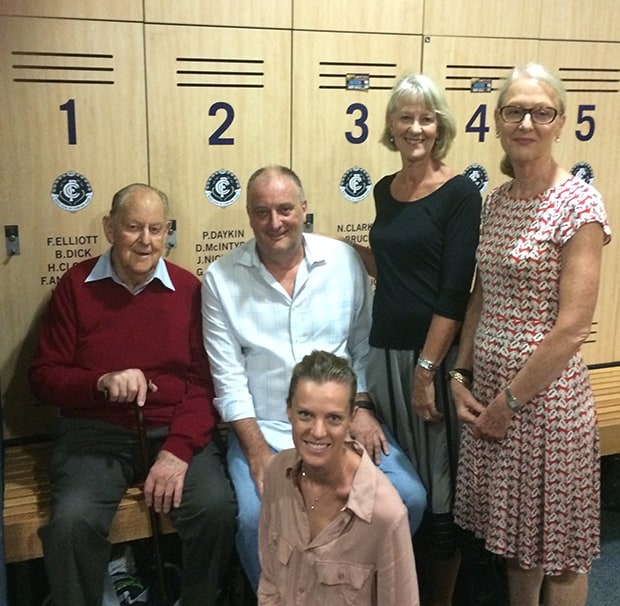 The Hands clan, clockwise from left: Ken, son John, daughter Janet, daughter Robyn and granddaughter Louise. (Photo: Supplied)
For Webster, the return to the old stomping ground proved a surreal experience.
"It's 65 years since I last set foot in the Carlton rooms," said Webster, the former Carlton vice captain who was photographed with his family in front of the old No.3 locker.
"When I was last here there was the Gardiner Stand, the Heatley Stand and that was it," Webster said.
"I got a chance to talk to Serge Silvagni, Ken Hands, Ken Hopper and Bill Redmond – they've all changed but I haven't."
Click here to see Carlton Media's gallery from the reunion
Robertson, the 30-game half-forward between 1952 and '56, described 21st century Carlton with its state of the art facilities as "a bit of an eye-opener".
He was, after all, of a time when football was oh so uncomplicated. Take his recruitment for example.
"I had a strong connection with old Newton Chandler. He was the one who got me down here," Robertson said.
"I was at the tech school when he first came up to see me, and when he came up he always used to come armed with a big bunch of flowers for Mum. Mum would say to me 'Oh Ron, I think you ought to go to Carlton with that nice Mr Chandler'. Gee he was an old conman. He was the master of it."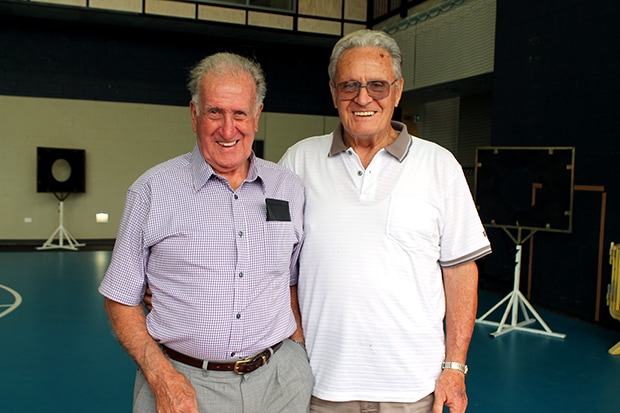 Ron Robertson (left) and Peter Webster. (Photo: Carlton Media)
In returning to Carlton, Robertson conveyed the sentiments of all present in commending the club and Spirit of Carlton for convening the reunion.
"I've been busy up on the farm and it's been hard to get back over the years," said Robertson, who made the trek from his old hometown of South Bendigo.
"But it's great that days like these happen. It's not all about running out there and kicking the footy, it's about forming a club that's united and has good fellowship."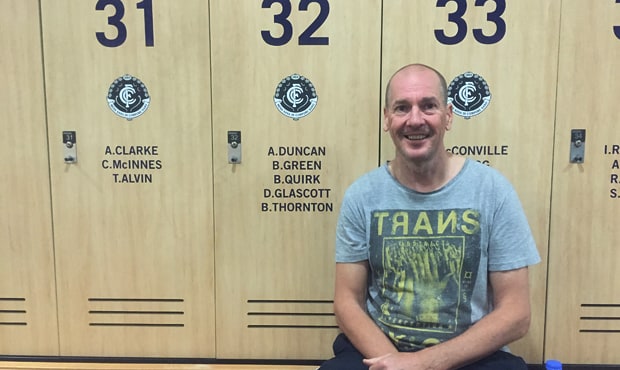 Three-time premiership player David Glascott pictured in front of the No.32 locker. (Photo: Supplied)
More By Tony De Bolfo, Carlton Media