Australia's third oldest city, Launceston is of course the home to Boag's Brewery. You might not know that it was also the first Australian city to be serviced by undergound sewerage and the first to be lit by hydroelectricity. It has also been home to men who crossed the Tasman to play footy for the mighty Blues. We highlight a few here …
Stan McKenzie
A tall, versatile player from Launceston, Tasmania, Stan McKenzie spent just one season with Carlton Football Club in our Premiership year of 1914. He played 14 consecutive matches for the Blues, before losing his place in the team on the eve of that years' Grand Final. Twelve months later, he died of illness while on active service with the AIF in Egypt.
He was outstanding in the centre, or as a follower in the Launceston Blues' 1909 and 1913 NTFA Premiership teams, and also represented Tasmania in the 1911 Carnival in Adelaide. In the summer of 1912-13, he completed a unique double when he scored an impressive 59 runs for the Tasmanian cricket team in a match against the touring English Test squad in Launceston.
Stan's credentials attracted many of the VFL teams to his door, but it was his former Launceston team-mate, George Challis, who eventually convinced him to join the Old Dark Navy Blues in 1914. McDonald was given the number 27 guernsey for his debut match against Geelong at Corio Oval in June. Named in a forward pocket, Stan joined a daunting attack that included Vin Gardiner at full-forward, George Topping in the other pocket and Challis at half-forward. Geelong weren't ready to be intimidated however, and downed the Blues by 31 points in a high standard match.
Back in Melbourne, as the call to arms in defence of the Empire echoed across the country, Carlton recovered from some early setbacks to finish minor premiers over South Melbourne, Fitzroy and Geelong. Then the Blues leapt to favouritism for the Premiership with an emphatic 20 point victory over Fitzroy in one Semi Final. All that was then required was for the Blues to beat South Melbourne in the Final.
Alas, that didn't happen. Showers swept across the MCG all match, and the Bloods adapted better to the conditions to beat Carlton by 19 points in a scrappy affair. Had South Melbourne finished as minor premiers, the 1914 Premiership would have been headed to the Lake Oval. But The Blues exercised their right under the VFL rules of the day, and challenged South Melbourne to a Grand Final rematch.
Stan McKenzie had been hardly sighted in the Preliminary Final, although he did manage one of Carlton's three goals from a half-forward flank. On the Thursday night prior to the Grand Final, Stan and winger Frank Triplett paid the price of that defeat, and were left out of the team. Alf Baud and George Calwell were named in their place, and Carlton turned the tables in a thriller to win our fourth flag by six points.
Soon after that bitter-sweet game, Stan enlisted in the First AIF as a medical orderly. He spent some months tending to Australian casualties on the Gallipoli Peninsula, (where he was promoted to the rank of Sergeant) and late in 1915 was posted to the 2/2nd Clearing Hospital at Alexandria, Egypt.
While serving there, he suffered a severe attack of appendicitis and, although the best possible medical facilities were on hand, Stan died on December 8, 1915.
From: http://www.blueseum.org/tiki-index.php?page=Stan+McKenzie
Pat Farrelly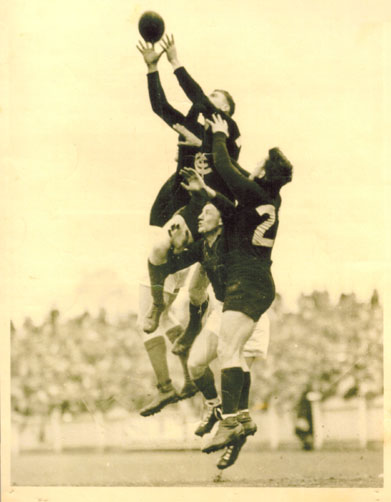 A tall, well-credentialled ruckman-forward from Launceston, Tasmania, Pat Farrelly played seven games and booted seven goals in his one season at Carlton in 1937. The following year he was 'swapped' to South Melbourne for Brighton Diggins, who stood out of football for twelve months before becoming Carlton's captain-coach, and leading the Blues to the 1938 Premiership.
Somewhat ironically, Farrelly made his senior debut for Carlton against South Melbourne at the Lakeside Oval in round 12, 1937. Playing in the ruck and resting at full-forward, he booted two of the Blues' seven goals for the match. His best return of four majors came a fortnight later, in Carlton's round 14 victory over Melbourne at Princes Park.
Farrelly was cleared to South Melbourne in 1938. The Swans used him almost exclusively as a tap ruckman, so he added just one more goal to his career tally. In 1939 he moved on to VFA club Camberwell for greater reward, and played there until he enlisted in the Australian Army in 1941. Throughout World War II, Farrelly served on home soil as a signaller.
He returned home safely, and later found work on the Melbourne waterfront through his former Carlton team-mate and close friend, Jim Francis. A long and peaceful life ensued, until August 6, 2007, when Patrick Stanley Farrelly passed away at the age of 94.
From: http://www.blueseum.org/tiki-index.php?page=Pat+Farrelly
Robert Dutton
After three years with Launceston in Tasmania, where he had played in a Premiership side and won a club Best and Fairest, 'Major' Dutton came to Carlton in 1979. His 192 cm frame ran out in the Carlton number 17 guernsey for his only game in season 1981.
His second and final League appearance was with Hawthorn – against Carlton in Round 14, 1982. The Hawks won by 34 points that day, but Carlton had sweet revenge by knocking them out of that year's Preliminary Final before beating Richmond for yet another flag. Dutton parted ways with the Hawks at the end of the season and played for Clarence (Tasmania) in 1983.
From: http://www.blueseum.org/tiki-index.php?page=Robert+Dutton