GARTH Evans was but a babe in arms when his father, the Carlton ruckman Maurie Sankey, was killed in a car accident five kilometres north of Wangaratta.
"Mum and Dad were engaged, I was born in July 1965 and Dad died that November. I was four months old," Garth said.
Now 53, Garth returned to the old Carlton ground this week to share precious photographs and hand-me-down tales of the father he never knew and the mother whose passing last August at the age of 82 is still profoundly felt.
Maurice Graham (Maurie) Sankey's life and untimely death is well-known. Recruited from Tasmanian club Latrobe in 1958, he was part of the cast of Carlton followers which included the great John Nicholls, Ken Greenwood, Graham Donaldson and Brian Buckley.
It's interesting to note that as someone who "sailed close to the wind" by those who knew him on Royal Parade, the adventuresome Maurie inherited the nickname 'Garth' – a reference to the British comic strip action hero according to former teammate Ian Collins.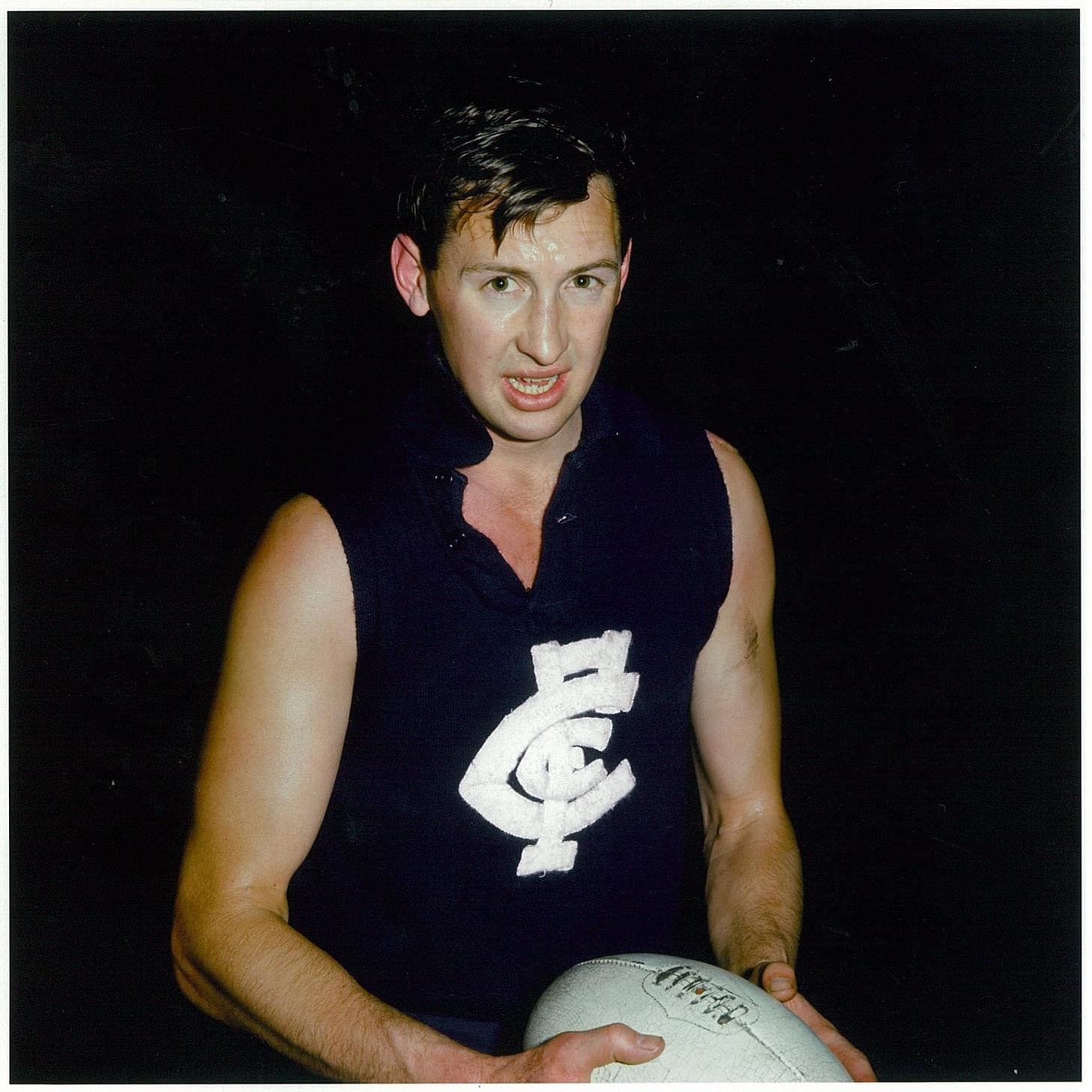 Maurie Sankey, Carlton footballer, 1965.
At 25, Maurie turned out for what would be his 100th and final appearance for Carlton – the 17th Round match of 1965 against Richmond at Princes Park. In recognition of the milestone, the committed tap ruckman and vice-captain was presented with a silver tray (since handed down to Garth by Maurie's sister Lurlene).
A few months later, on the evening of Sunday, November 21, 1965, Maurie would be dead.
"Maurice had been on a golf trip and was behind the wheel of an EH Holden, when he tried to overtake a semi-trailer on the Hume Highway," Garth said.
"Unfortunately that semi was directly behind another semi and Maurice couldn't get back into the lane. Another car came the other way, both swerved to the right, but hit eachother head-on. He was killed in the accident, as were two people in the other.
"Maurice might have been wearing a lap belt in his bench seat, but really there was no protection. He got a broken neck and was killed instantly and the three other guys in Maurice's car got out of it pretty much unscathed.
Maurie's funeral, at the Brunswick Baptist Church in Sydney Road, was reported inThe Sun News-Pictorial. Chief mourners included Margaret, Maurie's mother Vera and siblings Barry and Lurlene. The then Carlton President George Harris paid tribute to "a great team man who supported all club activities and helped young players" and Maurie's old teammates Graeme Anderson, Collins, Gordon Collis, Berkeley Cox, Wes Lofts and Sergio Silvagni acted as pall bearers.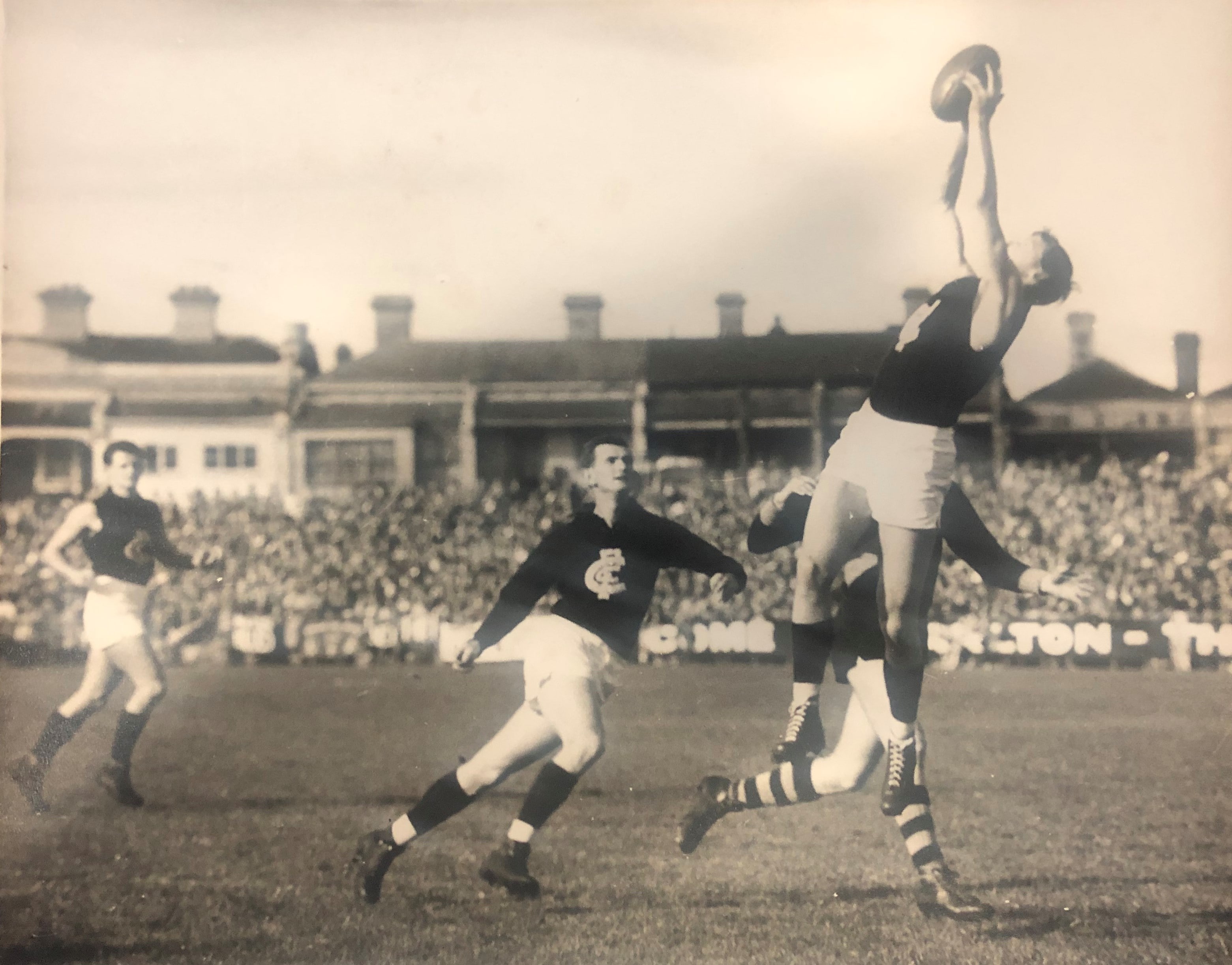 Maurie takes a towering mark against Richmond, Punt Road Oval, Round 5, 1963.
At Springvale Cemetery's HN Featonby Lawn section Maurie was laid to rest, after his funeral cortege had passed the old Carlton ground for the last time.
It is almost certain that Maurie met Garth's mother Margaret Evans at Carlton. As Garth said, "Margaret was a long-time supporter and while I'm not sure whether she met Maurice inside the club or outside the club I think it was more likely inside".
"Mum used to tell me about Maurice, that he was a real knockabout fun guy, a bit of a risk taker and someone who lived life on the edge," Garth said.
"He played the game hard and he played life hard."
But if Maurie was the hard man, then Margaret – who was still dealing with the tragic loss of her first husband when she and Maurie met – was positively stoic.
Born in the northern suburb of Eltham, the second of eight children of Jack and Margaret Mynott, Margaret was raised in a working class family through the trying years of the Second World War. To quote Garth: "The family wasn't really well off, Mum left school early and married quite young".
In 1955, Margaret exchanged vows with her first husband, John Robert Evans, to whom she bore three sons Larry, Michael and Joel – the stepfather of the former Melbourne AFLW captain Daisy Pearce who, not surprisingly, followed her beloved Blues as a kid.
Tragically, Margaret would be left to fend for her three boys when in December 1961 her husband drowned in an incident which also claimed the lives of her brother-in-law and another man.
"Robert got caught in a rip down the back of Rye at Koonya Beach," Garth said.
"Terribly, my Aunty's husband also lost his life in the same incident, as did an off-duty ambulance officer who ran down to help."
Not long after the tragedy, Margaret found work at the Carlton Football Club as typist and bookkeeper for the then Senior Coach the late Ken Hands.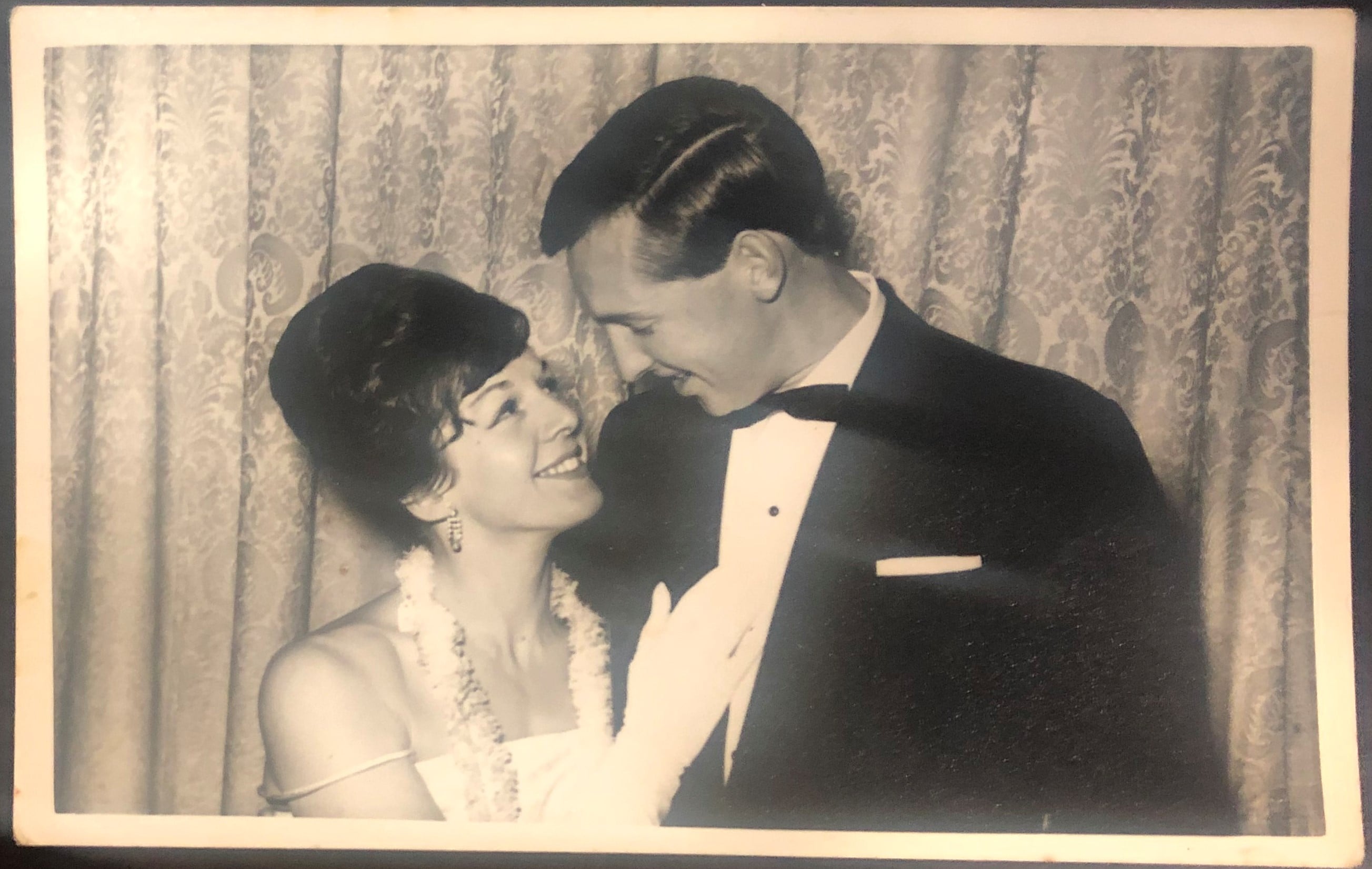 Margaret Evans and Maurie Sankey, place unknown, circa 1965.
It was all pretty simple. The position was advertised, Margaret applied and she got the job – and as Garth suggested: "Mum was most likely one of the first women employed at a football club".
"I reckon Mum worked for Ken through 1963 and '64. My older brothers remember having the run of the club whenever they followed her into work," Garth said.
Following Maurie's awful demise, Margaret was again left to pick up the pieces and fend for her four sons – and to her eternal credit she found a way.
As the years rolled on and her boys entered into adulthood, Margaret found more time to pursue a myriad of interests, politics included. Through the heady days of the 1970s, from the "It's Time" campaign onwards, she committed wholeheartedly to the Labor Party.
"I reckon her support of Labor was a throwback to her working class origins," Garth said. "She also worked for Legal Aid in Preston and through 1973 and '74 she served as the first secretary of the Eltham Basketball Club, which is now a huge club, and her name is on the Honour Board there.
"At the age of 50 she went back to school. She earned her VCE and later got a Bachelor of Arts at Latrobe. She was also a very good creative writer and she penned lots of nice pieces."
In 1991, Margaret exchanged marital vows with Keith Davies, a South Australian who, like her, had been married previously. Their union would endure for more than a quarter of a century until Keith's death in September 2017, just 12 weeks after he was diagnosed with Motor Neurone Disease.
Less than a year later, Margaret also died, for Keith's passing hit her hard – as it did her four sons. As Garth said: "There wasn't really a father figure until later in our lives through Keith. He became a stepdad from 1991 onwards and we grew closer to him over time".
But through it all, Margaret's love for Carlton never waned. In fact, it only intensified, particularly through the early 1980s, when Garth turned out in Dark Navy for the Trevor Keogh-coached Under 19s.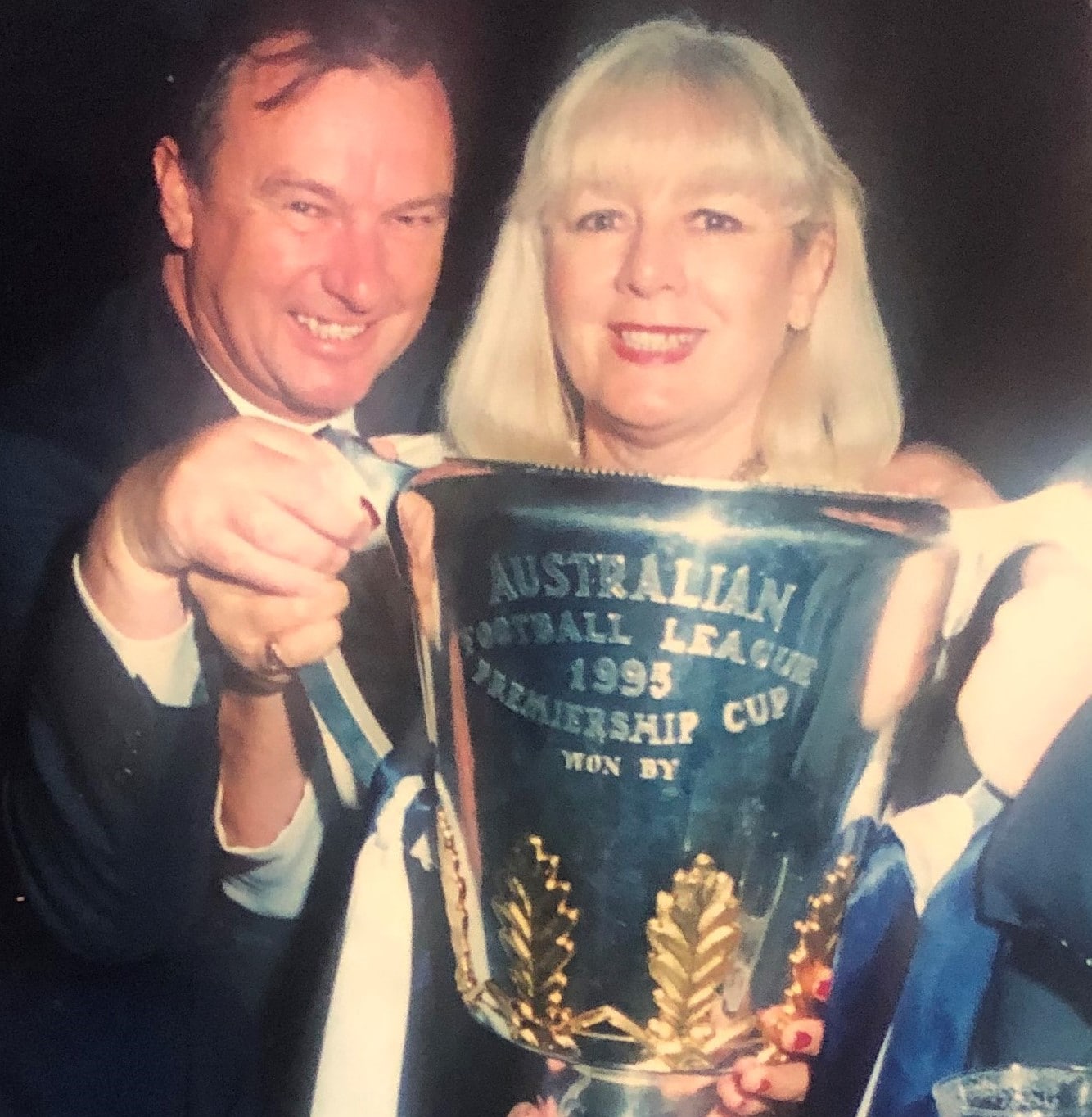 Margaret Evans and her second husband Keith Davies, Premiership night 1995.
For Garth, these were happy days.
"I was invited down to Carlton to train under the father/son rule by Ian Collins and I still have the invitation on the club's Avco Finance letterhead," Garth said.
"I came down in late 1982, played with the thirds through 1983 and 1984 and managed one reserve grade appearance in a star-studded line-up in the '84 season . . . and I loved every second of it.
"There was a game here at Princes Park, the only home game for the year as the others were played at Glenferrie Oval, where I managed to boot eight against Fitzroy as my Mum and my aunt, who was very sick at the time, watched on.
In 2011, Margaret completed a sentimental journey back to the old ground, this time with Garth and Maurie's old teammate, the 1964 Brownlow Medallist Gordon Collis. Gordon had roomed with Maurie and another teammate John Reilly in a house at 19 Berry Street Coburg at the time of Maurie's death.
Margaret, Garth and Gordon filed into the club's theatrette to view rare home movie film, shot in early '65 at the Balnarring seaside escape of the then Chairman of Selectors Jack Wrout, of the Carlton players' first pre-season under Ron Barassi's watch.
Featured in that precious film were flickering images of Maurie and Gordon riding bareback on a horse, which pleased the three theatregoers no end.
"Having Maurie as a father is a great source of pride. I was always proud of what he did at Carlton, I've always loved the club and I loved my time here as well," said Garth, who is himself a proud father of Jami (30), Lachlan (24) and Liam (21).
"As I said in Tassie when Maurice was inducted into the Tasmanian Football Hall of Fame, it's a great honour. But it's such a long time ago that he died and it was totally unexpected.
"If he (Maurie) had lived on life would have been a lot different for me. In terms of football alone I was a footballer with a fair bit of potential, but was a bit busy off the field and not quite disciplined enough . . . so that stern male figure I didn't have might have helped a bit."
And Margaret?
"Mum was a very resilient woman," Garth said. "She scraped through after Maurie died and they were hard days I think.
"Mum and I were very close, as were the other boys, because she was all we had.
"She was Mum and Dad to us."