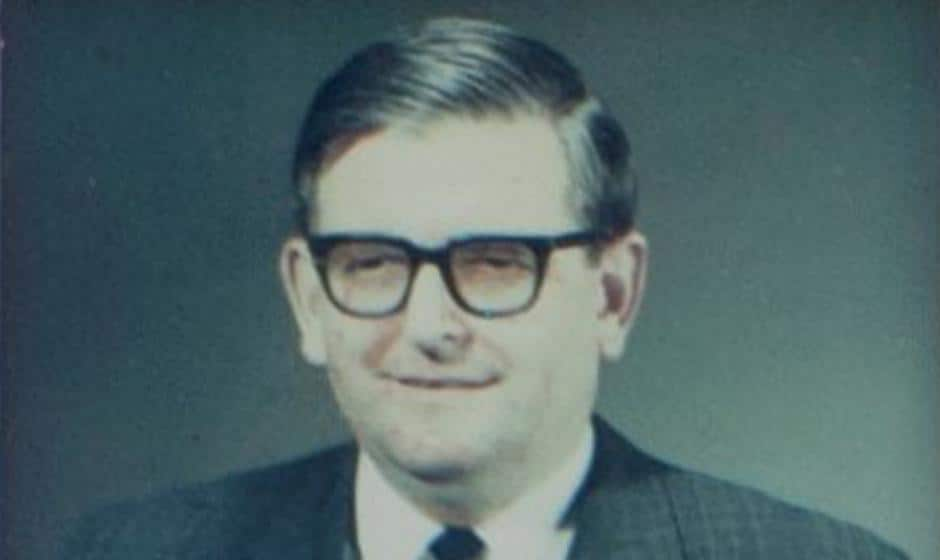 Until last year, when ill health forced him to curtail his football club activities, Perriam committed his energies as a dedicated volunteer – just as he had done for the better part of six decades through Carlton's most successful epoch both on and off the field.
John Frederick Perriam's official links with his beloved Blues can be sourced to the early 1960s by way of Allen Cowie, the former Carlton Secretary who later died in office.
A lifelong acquaintance, the former Carlton Premiership player, Chief Executive and President Ian Collins remembered first being introduced to Perriam by Cowie in early 1963.
"Allen and I were boarding with the Smith family in Linda Street, Moreland and it was there that I met John, who was a drinking mate of Cowie's," said Collins, who is to deliver the eulogy at Perriam's funeral on Thursday.
"First impressions were that he looked like Clark Kent with his distinctive thick-rimmed glasses and he was always impeccably dressed."
With Cowie's imprimatur, Perriam accepted the role of Carlton Football Club Assistant Treasurer to Tom Barter. These were the Barassi years and Perriam's name first appeared beneath Barter's in the 1966 Annual Report. Soon after, Perriam joined the club's Finance Committee, chaired by Graeme Emmanuel, which controlled all matters related to finance, and in 1969 he succeeded Barter as Honorary Treasurer.
Perriam fulfilled duties as Honorary Treasurer through to mid-1974 when he was seconded to the Football Club's Board of Directors (and in 1975 the Social Club board as a delegate) – roles he would retain until standing down in May 1997.
"When I became CEO I reinstated him as Treasurer because he was such a reliable bloke," Collins said. "He was always honorary, he never took a dime from the club ever, and the old Annual Reports always carried his address if ever something went wrong.
"He was a good bloke. He was straight down the line and he had good finance understanding without being qualified. He had his own business in partnership with another chap, and one stage he employed Bruce Doull, on reception I think, which didn't last long because 'Doully' wasn't mad on talking to people."
On Carlton matchdays at the Docklands, through his years as CEO of Stadium Operations Ltd, Collins hosted Perriam and the likes of former players David McKay, John Reilly and Sergio Silvagni.
The aforementioned also met regularly over bowls of rigatoni and bottles of Sangiovese at Bulleen's Veneto Club. The next lunch had been inked for February 20, but as Collins lamented: "with John's passing we've had to pull the plug on that."
Until late last year, Perriam maintained his close working relationship with Carlton through its Finance Department. Assistant Accountant Cathy Altham recalled that for many years, "John came in three days a week to assist Rhonda Stevens with payroll".
"John checked the payrolls and did most of the payroll reconciliations. We were still using the old journal books then, so John would write up the payroll journals to be processed," Altham said.
"When Rhonda left at the end of 2009, John continued assisting with reconciliations and looked after compiling the figures for the FBT return. He generally pitched in and assisted wherever an extra pair of hands was required.
"John used to commence very early, and came in rain, hail or scorching sun. Some mornings when I asked John what time he'd arrived he would say '7am'. John would laugh off our concerns about him coming into the office on days when the temperature would be in the 40s."
Though recent health battles forced him to scale down his onsite appearances, John's passion for the goings on at Princes Park never waned.
"I know John was passionate about his club, and some of our discussions were about the game on the weekend," Altham said.
"But most of my discussions with John were more of a personal nature. He was a proud grandfather and much of our discussions revolved around our families. He had a wonderful sense of humour, so I enjoyed our Monday morning chats.
"He called me on the day of the club's Christmas party. He'd been in hospital again, but was determined to try and get back to the office in January.
Perriam never made it back, but it wasn't for want of trying. As Altham said: "If you looked up the word 'resilience' in the dictionary, there'd be a picture of John".
John Perriam is survived by his wife Nanette, children and grandchildren.
A funeral service to celebrate his life will be held in the Wilson Chapel, Springvale Botanical Cemetery, 600 Princes Highway on Thursday, January 31, commencing 2.15pm.