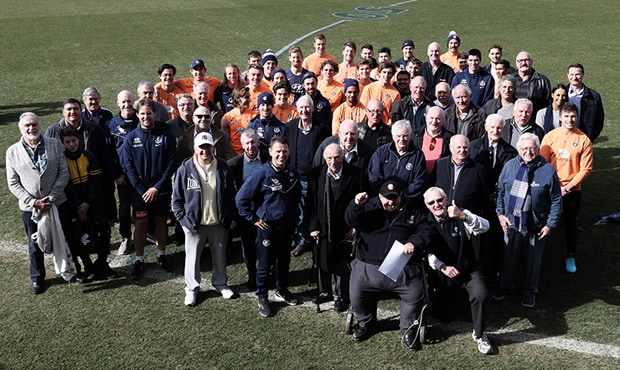 IF ever a photograph best reflected the "Bound By Blue" ethos it's this one – a photo, recently captured at Ikon Park, of the Club's players and officials past and present rubbing shoulders with the President Mark LoGiudice, senior coach Brendon Bolton and the Carlton players of today.
The image was taken at a meet-and-greet which followed a training session at the old ground last Saturday morning. Amongst those sharing the moment were premiership players Warren Jones, Andy Lukas, Alex Marcou, Ian Robertson, Sergio Silvagni and Geoff Southby, together with assistant coach David Teague and the outgoing Head of Football Andrew McKay.
Other former players sharing the moment with Murphy, Cripps, Curnow, Kreuzer and co. included Leon Berner, Vin Cattoggio and Bob Crowe, together with reserve-grade players Max Dixon, Greg Kazuro and Tony Zoanetti.
Long-serving club property stewards Ken Kleiman and Wayne 'Bulldog' Gilbert were amongst the many Old Dark Navy Blues lending their support to the club, not because it was up, but because it was down – a statement of solidarity from those whose love for Carlton only intensifies with the passing years.