PLEASE NOTE: The BBQ scheduled for the 24th February has been postponed until later in the season.
Any enquiries should be directed to Lou Katsamas via either Email: lou.katsamas@carltonfc.com.au, Phone: 03 9389 6231 or Mail:  Lou Katsamas c/o Spirit of Carlton PO Box 83, North Carlton, VIC, 3054.
The Carlton Football Club is again opening its doors to all senior footballers who ever wore the dark Navy Blue guernsey – together with former officials and staff members – to a free barbecue breakfast at the old ground.
In conjunction with the Spirit of Carlton, the club is extending the invitation to the aforementioned – together with their wives and/or partners, children and/or grandchildren – to also view a training session involving the current-listed footballers under Brendon Bolton's watch on the morning of Saturday, February 24, commencing 10am.
Carlton is also opening up the inner sanctum – the locker room – to enable former players to be photographed with their loved ones by the lockers carrying their old guernsey numbers.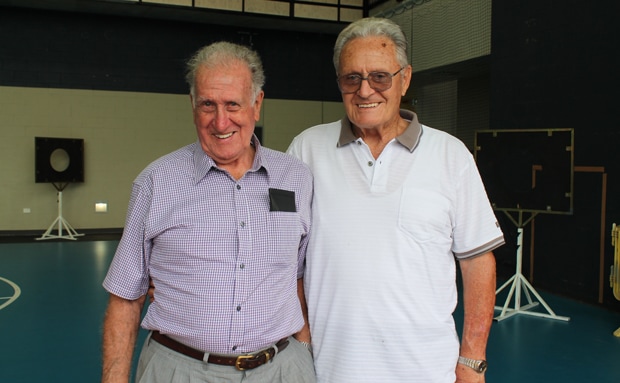 Former players Ron Robertson (left) and Peter Webster, pictured at the 2016 event. (Photo: Carlton Media)
The breakfast will be held on the landing by the George Harris Room at which those players and officials who so ably served Carlton can renew their old friendships.
The opportunity to reconnect has been relished by former players and their descendants – a case in point, the kinfolk of dual Carlton Premiership player the late Charlie McInnes – his daughter Laurie Morgan, grandson Luke and great granddaughters Ava and Alexa – who two years ago paid the old ground a welcome visit to be photographed in front of ol' Charlie's No.31 locker.
For the McInnes clan, it was as if the club had given Charlie back.
"It was absolutely sensational to see Dad's locker, but to have Luke there and my two granddaughters to share the moment made it really lovely," Laurie said at the time.
"It means a lot to go back. I'd only ever been in the old rooms a couple of times and they weren't done up like they are now."