MORE never-before-seen photographs of the immediate aftermath of the 1987 Grand Final have surfaced on the eve of the 30th anniversary reunion of members of the Carlton premiership team.
The first four images captured moments after the final siren were featured on the Club website on Tuesday. A further nine photos, which surfaced this morning, were captured on the Melbourne Cricket Ground moments after the final siren signalled the Blues' 15th premiership victory – 15.14 (104) to Hawthorn's 9.17 (71) – on a sweltering last Saturday in September.
Featured among the glorious black and white images is a siren-time photograph of Tom Alvin, Craig Bradley, Stephen Silvagni and Peter Dean in wild embrace. Another, in which an exhausted, elated Wayne Johnston falls into the arms of the then physical education instructor Chris Jones, is set against the backdrop of the since-demolished Smoker's and Olympic Stands.
Also featured is the jubilant Carlton coach Robert Walls, arm-in-arm with the then Stephen Gough, who this year announced his retirement after 17 years as CEO of the MCC and the stadium it manages, the MCG.
1987 premiership coach Robert Walls – together with 19 of the 20 who played their part in the victorious Grand Final team – will be in attendance for the Spirit of Carlton reunion luncheon on Friday and the matchday function at Etihad Stadium on Saturday night.
The notable apology is Peter Dean, the 248 dual Carlton premiership player who is this weekend committed to coaching duties with Bullioh in the Upper Murray League second semi-final.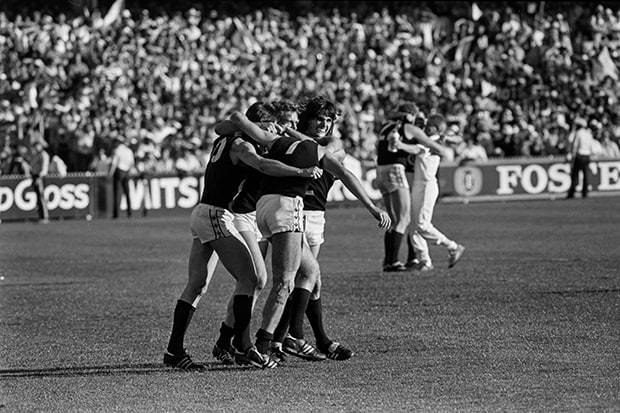 Siren time, Grand Final day, Saturday, September 26, 1987. Peter Dean, Craig Bradley, Tom Alvin and Stephen Silvagni in wild embrace.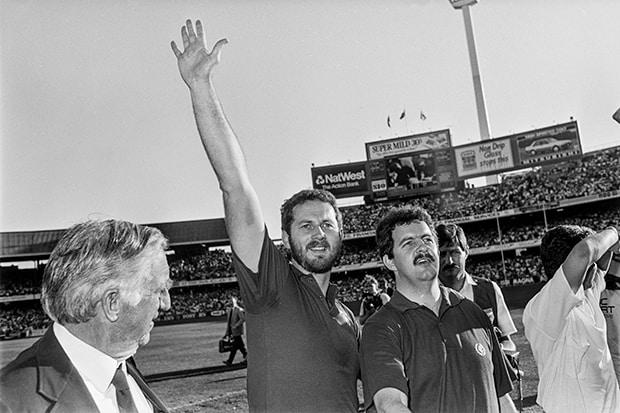 Carlton premiership coach Robert Walls and Carlton football manager Stephen Gough acknowledge the crowd. To the left is club dentist Dr Don Hall.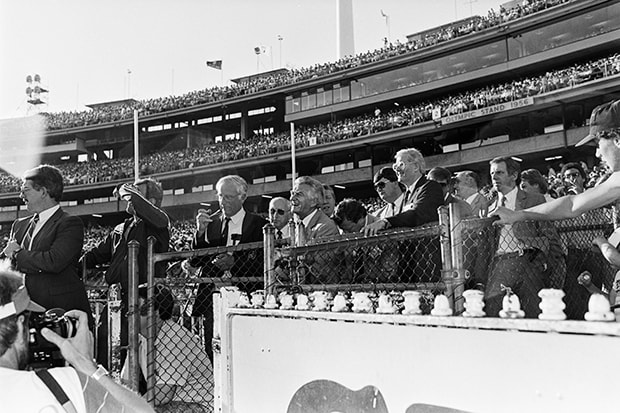 Dr Don Hall, together with Carlton Football Club directors Lloyd Bendall, Malcolm Payne and Kevin Hall, flank the Australian Prime Minister Bob Hawke just prior to the presentations.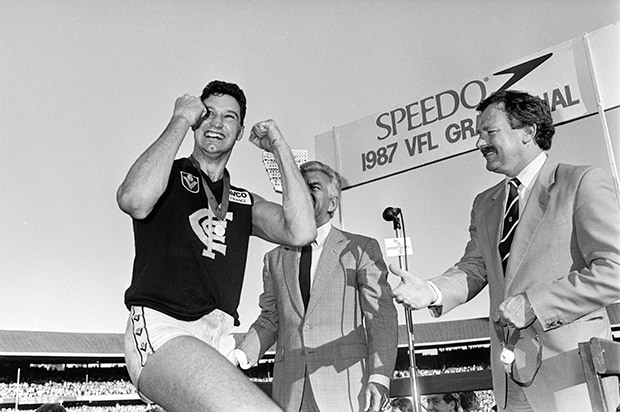 Justin Madden savours the moment, having been handed his premiership medallion from the Rt Hon RJ Hawke. 'Harry' would later answer to 'Rt Hon' as a Victorian Parliamentarian.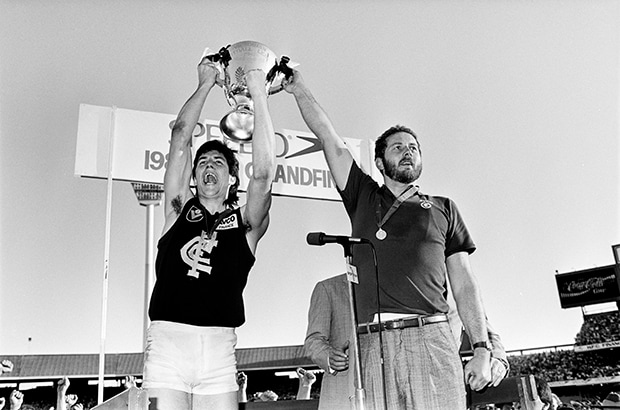 Carlton premiership captain Stephen Kernahan and coach Robert Walls hoist the Club's 15th piece of silverware to the heavens.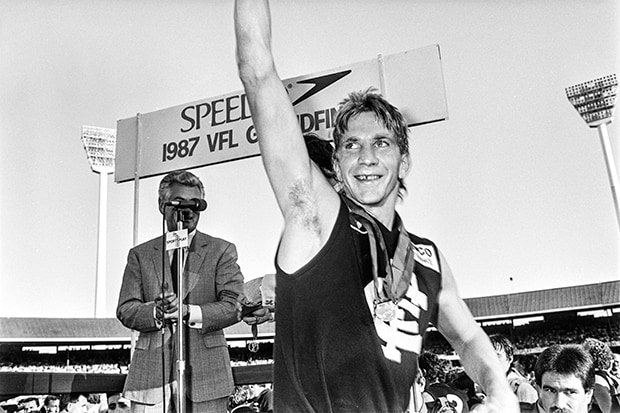 "Thanks Bob – now, where's the club dentist?". David Rhys-Jones acknowledges the crowd after being presented with the Norm Smith Medal.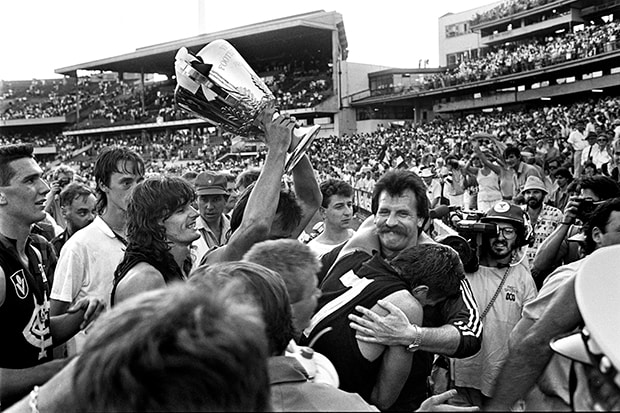 Wayne Johnston falls into the arms of Carlton physical education instructor Chris Jones, Mick Kennedy holds the trophy aloft, with fellow premiership players Tom Alvin and Stephen Silvagni featured in the frame.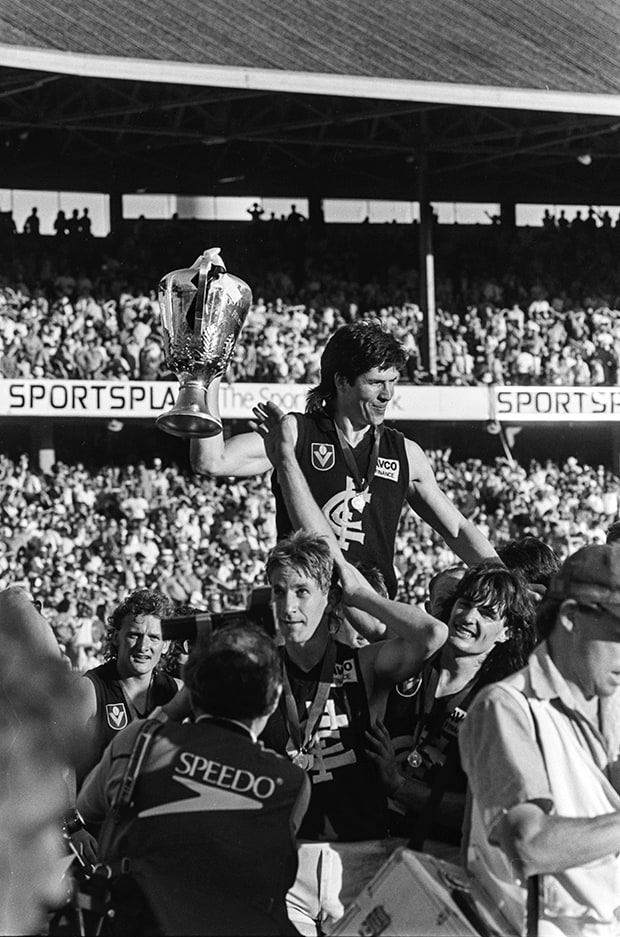 The victory lap. "All Hail King Kerna".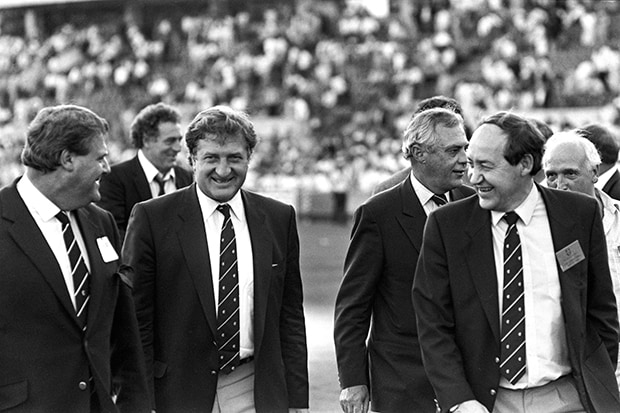 The powerbrokers, from left: Fosters Brewing Group Limited CEO and Managing Director Peter Bartels, Carlton Vice-President and Match Committee Chairman the late Wes Lofts, President John Elliott, Carlton director John McIntosh, Carlton Vice-President and Executive Director Ian Collins, and former Carlton director John Minuzzo.