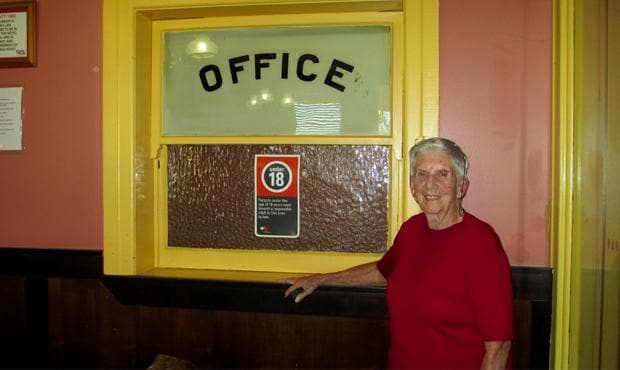 Ellie Rosier can't wait to watch her great nephew Caleb Marchbank run out in the navy blue.
If all goes according to plan and Caleb Marchbank makes the cut for Carlton in the 2017 season opener against Richmond, then Ellie Rosier intends to be there to see her boy in Blue run out.
It will take the cost of a return air fare from her home on the Gold Coast, but Ellie, at 92 years young, is up for it. She is, after all, the precious living link with Carlton's Marchbanks, as great aunt of the newly-recruited Caleb and daughter of the two-time premiership centre half-forward of 1906 and '08, Jim.
Of Caleb's recent recruitment to Carlton, Ellie could barely contain herself when contacted this week.
"I am ecstatic. This is absolutely wonderful news. As you can imagine I was born into Carlton and I'd been hoping so hard that Caleb would follow my father to the club," Ellie said.
"It goes without saying that I would love to come down to Melbourne to see Caleb run out."
Impeccably placed to shed precious light on her dear father's life, Ellie was able to verify the following details about Jim's early years.
To the letter of the law, Jim wasn't actually a Marchbank. He was born James Alexander Hanson in Sale on August 17, 1878 (the second of three children between Albert (Caleb's great grandfather) and Alice, and his parents were James Tricket Hanson and Janet Scott. Janet originally hailed from the central Tasmanian town of Bothwell, while Hanson, according to family legend, was born at sea, on an Australian-bound ship out of Denmark.
Jim was two months shy of his second birthday and his sister not yet born when the Hanson family was hit by tragedy. In June 1880, Jim's father got swept away whilst attempting to cross the flooded Deddick River on horseback. Hanson's disappearance prompted an extensive search involving 15 men, who took eight days to find his body about half a mile from the scene of his disappearance. His death, according to the local newspaper, was later recorded as accidental "and the remains of the unfortunate man were buried in the wilds of North Gippsland".
Two years after James Hanson's untimely death, the widowed Janet married John William Marchbank, a resident of the quaintly-named Muddy Creek. From that marriage came four more children – Bill (a career policeman who in 1908 managed three Carlton senior appearances and in the Great War survived a bullet to the chest), May (to whom the long-serving football writer Scot Palmer is related), Margaret and Tom.
In time, Janet's children by her first marriage, which included Jim, claimed the Marchbank family surname as their own.
"My father started off in the bush with nothing, but managed to educate himself. He used to read a lot," Ellie said recently.
"He had a very forceful personality, he was into everything and he arranged everything.
"In the early days he worked in the mines at Walhalla, and he used to send money back to his sisters in Broadford to help with their education. Later, he ran a lot of timber mills in locales like Beech Forest down near Lorne, and he went to places like Bairnsdale, Narbethong and Warragul where my brother Don and I were born. Dad didn't marry until later in life when he was 40, which is why I'm still around."
Though Jim's time at Princes Oval briefly ended when he opted to go bush in late 1904, his return on the eve of the famous 1906 season coincided with Carlton's first glory era in League competition, and the Premiership hat trick of 1906, '07 and '08. Jim played his part in the Grand Final triumphs of '06 and '08, but suspensions cost him and the then Carlton captain Fred "Pompey" Elliott their places for the '07 victory over South.
Jim's on-field career came and went long before Ellie was born. But newspaper reports of the day bear fitting testament to Jim's on-field prowess from the time he got the first call-up from the legendary Jack Worrall for the 17th round game of 1903 at home against St Kilda.
Jim was a giant of the game and his talents were universally acclaimed. The Punch correspondent, for example, acknowledged Marchbank's football genius in his review of the 1910 semi final between Carlton and South.
"Marchbanks (sic), the long, slender streak, was easily Carlton's champion. He sailed into the air sometimes a chain above the bunch. He's a bird with hardly a rival as an aeroplaner," he wrote.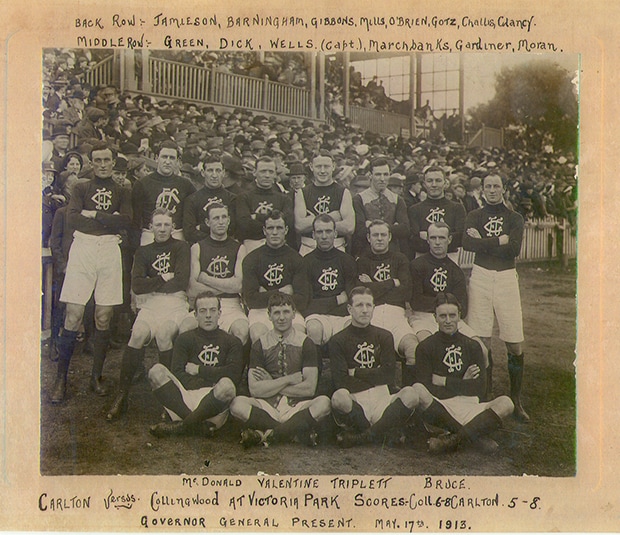 Carlton's 1913 team. Jim Marchbank is pictured fourth from the left in the middle row.
At the Carlton Football Club's Annual General Meeting of 1911, Jim was similarly lauded by The Victorian Follower. He was presented with a gold medal by Mr. A. E. Spring of The Follower, for being judged the fairest and best player in the VFL – s medal which remains firmly in the family's keep to this day.
And yet, Jim's sporting successes weren't confined to the football field alone, as Ellie explained.
"My father was also a very keen racegoer and a successful racehorse owner. Two of his horses, Confusion and Eucumbene, won at Williamstown, and another won at Moonee Valley on the same day Carlton knocked Collingwood over – one of his happiest days."
As a teenage girl, Ellie often accompanied Jim to Princes Park. "I used to go with him to the football at Carlton in the days when Percy Bentley was coach, and that was fun," she recalled. "Dad was a Life Member having long retired and he used to get around on crutches because he was pretty much crippled by then. He battled with what was called Paget's Disease, and his legs were black and blue from his playing days, but he loved going to Carlton and so did I."
In April 1959, a few short months after his death at Berrigan, Jim's cremated remains were returned to Princes Park. There, in a simple ceremony attended by old teammates Alf Baud, Vin Gardiner, Ernie Jamieson, Mort Keily, Paddy O'Brien, Andy O'Donnell, Billy Payne, Viv Valentine and Jack Wells, President Lew Holmes cast Jim's ashes over the sacred ground.
Fifty-seven years on, the Marchbank-Carlton reconnection is complete – and according to Ellie her father wouldn't want it any other way.
"Dad used to say that his happiest times were when my brother Don and I were little kids, but I very much doubt that," she said.
"I think his time at Carlton must have been pretty good and if he was alive today to see Caleb there he'd be thrilled to bits."